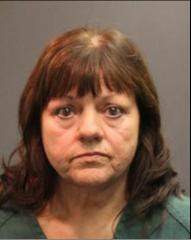 Santa Ana Police Department
Advisory: Santa Ana Police Detectives Arrest Woman In 2011 Embezzlement Case
Arrested: Deborah Mueller (60) Huntington Beach
Summary: On June 2, 2015, 60 year-old Deborah Mueller was arrested for embezzlement by Santa Ana Police Detectives.
Mueller was employed at Jorgenson Metal Rolling & Forming as the office manager for over 10 years. In January of 2011, Mueller was suspected of embezzling a large amount of money and was terminated. An investigation was launched by the Santa Ana Police Department's Major Fraud Unit and Mueller moved to Arizona after being terminated.
The investigation revealed that Mueller embezzled over $75,000 from her employer in a 14 month period. A warrant of arrest was issued for Mueller charging her with Grand Theft, Forgery, Computer Access Fraud, and Falsifying Records.
Santa Ana Police Detectives located and arrested Deborah Mueller near her home in Huntington Beach. She was interviewed and confessed to stealing the money because she needed the money. Mueller also had several outstanding warrants from Los Angeles County for similar crimes.
###