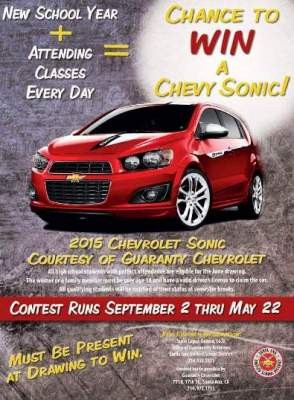 FOR IMMEDIATE RELEASE: June 2, 2015
Contact: Deidra Powell, Chief Communications Officer , (714) 558-5555, (714) 673-4995
Media Advisory: Saturday, June 6 Car Giveaway
One High School Student with Perfect Attendance Will Win a 2015 Chevy Sonic!
Event: One lucky Santa Ana Unified School District high school student, who has had perfect attendance all year long, will be the winner of a brand new car as part of the Perfect Attendance Car Giveaway promotion courtesy of Bruce Hamlin, Owner of Guaranty Chevrolet, located at 711 East 17th Street in Santa Ana. Every year, Hamlin hosts a celebration in the Guaranty Chevrolet showroom for nearly 630 eligible high school students. "The main reason we do this is to help the community. The more students that attend classes daily, the more educated the student becomes. Those are the people that become good citizens and therefore help the community. I feel it's beholden on the businesses in each community to help keep our communities strong and safe." said Hamlin.
This year's event will be Saturday, June 6 at 10:00 a.m. All eligible students must be present to win. Leading up to the grand prize, there will be a variety of other prizes such as gift cards to popular restaurants, movie theatres, and other favorites among teenagers. The moment that everyone will be waiting for will be the last drawing of the morning. Five names will be drawn. Each of the five students will grab a key from a bucket, but only one will have the official key to start up a brand new 2015 Chevy Sonic. "The look on the student's face when they win the car is priceless. There is no better feeling than helping someone and giving them an opportunity to improve their lives."
The Santa Ana Unified School District promotes the importance of attending school each and every day to students and parents throughout the year. The Perfect Attendance Car Giveaway is one of the district's innovative strategies to reduce absenteeism. If you are interested in covering this event or if you wish to request photographs and video of the event, please contact the SAUSD Communications Office at (714) 673-4995 or deidra.powell@sausd.us.
Date: Saturday, June 6, 2015
Time: 10:00 a.m.
Location: Guaranty Chevrolet
711 E. 17th Street, Santa Ana, CA 92701
714-973-1711
###