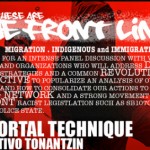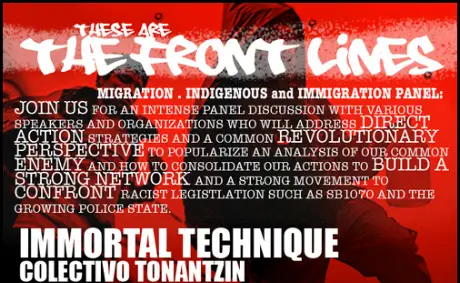 A migration, indigenous and immigration panel will be held in Costa Mesa, on Aug. 25, from 5 pm to 10 pm, at the Neighborhood Community Center located at 1845 Park.
5 dollars is requested as a donation.  Food will be sold, there will be info booths and free child care.
Schedule/Program: arrive early limted seating, a Spanish interpreter will be available.
5:00pm doors open
5:30 – 6:00 PM Food, DJ Matt, Slide Show
6:00- 6:15 PM Naui Huitzilopochtli aka nauiocelotl's youtube videos
6:15- 6:30 PM Testimonies
6:30-7:10 PM "Jornaleros En Lucha" W/ Q&A
7:10-10:00 PM Panel Discussion W/ Q&A from the audience
Organizations involved include:
Immortal Technique
Colectivo Tonantzin
Cop Watch Los Angeles
Mexica Movement's-Nelyollotl Toltecatl (muralist,speaker)
Black Riders Liberation Party
Tongva Nation
ACLU
Pomona Day labor center
South Asain Network
10:00-11:00 PM Optional Street Patrol
For more info send an email to nauiocelotl@yahoo.com or click here.
Click here to RSVP on Facebook.