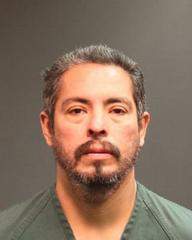 Jose Andres Plascencia, 42, was found guilty on Thursday of kidnapping an 11-year-old girl off a Santa Ana street and repeatedly raping her, more than two decades ago.
Plascencia was convicted after an O.C. Superior Court jury deliberated for less than a day.
Plascencia's co-defendant, Ismael Salgado, 43, is set to go on trial at a later date.
Plascencia and Salgado were accused of kidnapping the girl on Feb. 3, 1999, then taking her to secluded parking lots and taking turns raping her as they held her down.
Plascencia's defense attorney, Sharon Marshall, claimed his client was too drunk that day to remember what he may have done, and despicably wondered whether the little girl willingly had sex with the suspects. However given their respective ages the victim could not have legally consented.
The 11-year-old victim was walking down Monta Vista Avenue with another girl after leaving the Jerome Center in Santa Ana when the driver of a Honda Civic pulled up next to them. The driver — who investigators later identified as Salgado — and a passenger — later identified as Plascencia — talked the two girls into getting into their vehicle, according to the prosecuting attorney, Deputy District Attorney Kristin Bracic.
The girls eventually decided they wanted to get out of the car, however while the 13-year-old was able to exit the vehicle, the 11-year-old was allegedly pulled by her hair by one of the suspects, which kept her in the vehicle.
The suspects first drove to a gas station, where Plascencia held his hand over the girl's mouth as the driver went in to pay. The men then drove the girl to empty parking lots at Carr Intermediate School and Valley High School, according to Brasic. They then raped the girl multiple times before finally dropping her off near a relative's house.
The girl was later able to pick the driver out of surveillance footage from the gas station, according to court filings, but the SAPD at the time were unable to identify him.
In 2011, Salgado pleaded guilty in an unrelated grand theft case, and his DNA sample was submitted to a law enforcement database. That DNA sample proved to be his undoing as it was later tied by investigators to DNA collected from a sexual assault kit in the 1999 rape of the 11-year-old girl.
Salgado was tracked down by investigators while he was in Chicago, and they then began looking into Plascencia after learning he had been a friend of Salgado's in 1999.
The investigators were able to collect a DNA sample from a water bottle that Plascencia left in a gym in Arizona and that eventually tied to the 1999 sexual assault.
The day after the kidnapping and sexual assault, Plascencia said that Salgado told him that he had to clean blood off his pants and out of his car. When Plascencia said he didn't remember what had happened, Salgado allegedly responded that it was better that he did not know.
Plascencia is set to return to court for sentencing on April 14.