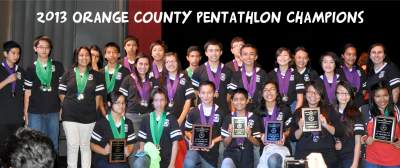 Guess who swept the Orange County Academic Pentathlon this year? Santa Ana's own MacArthur Fundamental Intermediate!  Their two 8th grade teams took first AND second place overall and Mac's only 7th grade team took first place!
Overall, over 54 individual medals were won as well.
The 7th grade team, coached by Ms. Christine Silva:
Angel Cuellar

Blake Pham

Brian Roman

Christina Nguyen

Elisa Olivares

Justin Salgado

Kevin Nguyen

Mikaella Miguel

Selene Chang

 
The 8th grade team, coached by Mrs. Laurie Tristan:
Team 1
Aaron Mendez

Ashley Chavez

Giselle Ramos

Jesse Perez

Josceline Acosta

Noah Tristan

Sofia Olivares

Teddy Moreno

Valeria Borroel
Team 2
Celina Olivares

Alexis Ortega

Charissa Nguyen

Jason Acosta

Karina Torres

Kyle Cung

Kyle Nguyen

Miya Lopez

Vanessa Avalos
The events involved encompassed the following five subject areas, with specific content designated by grade-level standards:
Essay (one to two written pages)
Literature (7th grade: Esperanza Rising by Pam Munoz Ryan, 8th grade: Elijah of Buxton by Christopher Paul Curtis)
Mathematics
Science (7th grade: Physical Principals, Structure & Functions; 8th grade: Chemistry)
Social Science (7th grade: Medieval & Early Modern Times including Renaissance & Reformation, 8th grade: Civil War and Reconstruction)
Each grade level team consisted of nine students from each of the following grade point average (GPA) categories:
Honor (GPA 3.75-4.00)*
Scholastic (GPA 3.00-3.74)*
Varsity (GPA 1.00-2.99) *
*All grades were assessed on an equal value; remedial and accelerated classes counted the same as 'regular' classes. P.E., instrumental & vocal music, and technology classes were not included. Only academic electives were included in calculating the GPA.
All nine team members were eligible for individual awards in the five subject areas, excluding the Super Quiz. Only the top two cumulative scores in each GPA category counted toward the team total.
The Academic Pentathlon Scrimmage was held on Saturday, January 12, 2013, at the 
Orange County Department of Education
 in Costa Mesa. The final nine team members were selected based on performance at this event.
The county-wide Academic Pentathlon Competition was held on March 23.