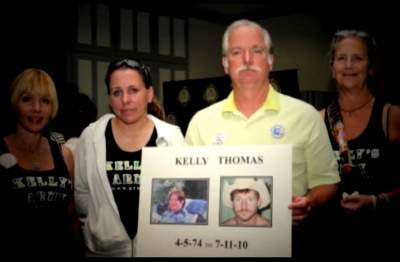 Orange County District Attorney, Media Advisory
For Immediate Release: April 23, 2013
WHO: Orange County District Attorney Tony Rackauckas
WHAT: Is pleased to announce the speakers for the 5th Annual Victims' Rights March and Rally
WHEN: Friday, April 26, 2013, at 9:30 a.m. (Reception) and 11:00 a.m. (Rally)
WHERE: Orange County District Attorney's Office, 401 Civic Center Drive W., Santa Ana, and the Old Orange County Courthouse, 211 W. Santa Ana Blvd., Santa Ana
SPEAKERS: Dr. Henry Nicholas, III, is the founder of Broadcom, an entrepreneur, business leader, philanthropist, and a nationally recognized victims' rights advocate. He has been deeply committed to victims' rights since 1983, when his younger sister, Marsy, was brutally murdered. Henry was the chief architect of California's Marsy's Law, codified in 2008, which serves as a model in the effort to pass a U.S. Constitutional Amendment to protect victims nationwide.
Dr. Nicholas helped his mother Marcella Leach build Justice for Homicide Victims, which counsels victims' families and has successfully advocated for change in the judicial system. In 2004, he passionately fought to defeat Proposition 66 and was honored by law enforcement agencies and advocates across the state, including District Attorney Rackauckas and the OCDA, for his work on that campaign. He is also a recipient of the Ronald Reagan Award for Pioneering Achievement in Criminal Justice and has received awards from Crime Victims United of California, the National Crime Victims' Institute, and the Los Angeles County Sheriff's Department, among many others. Dr. Nicholas was a major supporter of Jessica's Law, passed in 2006, and he has actively lobbied the California legislature to support tougher laws that require violent offenders to serve their full sentence.
Rachel Alvarado's daughter, Lanette Alvarado, was a 23-year-old mother to two young children. One week prior to the murder, Lanette Alvarado's former boyfriend, Miguel Vargas, was convicted of domestic violence against her.
On Feb. 5, 2009, Vargas drove to Lanette Alvarado's home and murdered her by stabbing her 20 times in the back of her head, neck, and back, as her 4 and 6-year-old children watched in horror. After the murder, Vargas fled to Tijuana, Mexico, and it took a multi-agency effort to locate him and bring him back. During the jury trial, the defendant left threatening messages for the prosecutor, yelled and cursed at the judge, physically fought against the deputies attempting to restrain him, and taunted the Alvarado family by staring at them in court and making outlandish claims that Lanette was still alive.
Vargas was a documented gang member and was prosecuted by Senior Deputy District Attorney Dave Porter of the TARGET Unit, a specialized team that targets the most violent, active criminal street gang members. Vargas was convicted by a jury in 2012 and sentenced to 73 years to life in state prison.
Rachel Alvarado attended every court hearing to ensure justice was served for her daughter. Rachel Alvarado is raising the victim's two children with the help of Lanette's siblings, and has found support and strength through relationships built through Parents of Murdered Children.
Annual Victims' Rights March & Rally Video and Photo Presentations:
4th Annual Victims' Rights March & Rally 2012 Video Presentation
4th Annual Victims' Rights March & Rally 2012 Slideshow
3rd Annual Victims' Rights March & Rally 2011 Video Presentation

2nd Annual Victims' Rights March & Rally 2010 Photo Presentation
1st  Annual Victims' Rights March & Rally 2009 Photo Presentation
###
Tony Rackauckas, District Attorney
401 Civic Center Drive West
Santa Ana, CA 92701
Contacts:
Susan Kang Schroeder
Chief of Staff
Office: 714-347-8408
Cell: 714-292-2718
Farrah Emami
Spokesperson
Office: 714-347-8405
Cell: 714-323-4486