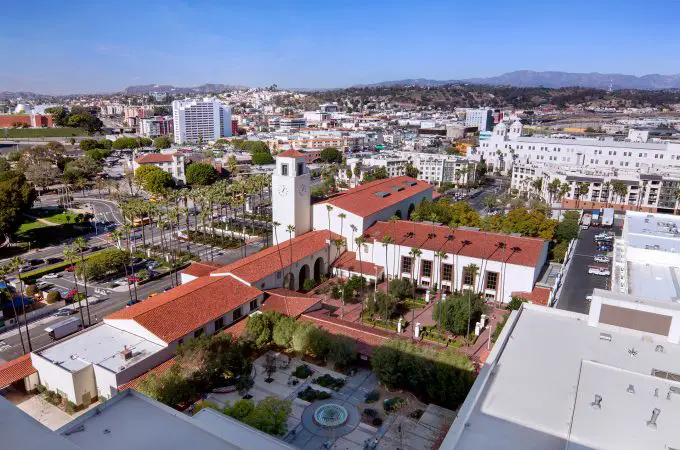 LOS ANGELES, – Los Angeles Union Station, with presenting partners Metro, Amtrak and Metrolink, will welcome train enthusiasts, history aficionados, industry professionals and commuters of all ages to learn, experience and celebrate all things rail at the much-anticipated Los Angeles Union Station Train Festival 2023: A Celebration of Past, Present & Future, on Saturday, Sept. 9 and Sunday, Sept. 10 from 10 a.m. to 6 p.m. daily. This event will feature railroad equipment tours and displays, model train displays, architecture, arts and culture tours, information booths, music, giveaways, eateries, amenities, ShopLAUS and more.
"Los Angeles Union Station is thrilled to welcome new interactive and engaging activations to Train Festival 2023. We're excited to provide train fans, rail experts and the local community with an experience that truly encapsulates the timeless wonders and legacy of train travel," said George Meyer, VP and General Manager at Los Angeles Union Station.
Guests will have the opportunity to take exclusive tours and view displays of railroad equipment on tracks 13, 14, and 15. From the world-renowned Steam Locomotive Santa Fe 3751 of the San Bernardino Railroad Historical Society (SBRHS), which pulled the first named passenger train into Los Angeles Union Station in 1939, to modern day passenger and freight equipment, attendees will be able to walk through rail history and witness the technological advances spanning more than 100 years. Featured displays will include Amtrak passenger equipment, a BNSF Railway freight locomotive and the Southern California Railway Museum's Atchison Topeka and Santa Fe (ATSF) 5704 diesel, which was one of five locomotives painted in a patriotic red, white, and blue scheme to celebrate the 200th anniversary of the United States. Attendees can also admire an LARail.com vintage private car, the Tioga Pass, which was built in 1959 by the Canadian National Shops designed for railroad executives and the Pacific Railroad Society's National Forum, a 1956 Pullman sleeping car. Metrolink's F125 Locomotive will also be on display while the company's Talgo-Rehabilitated Bombardier Train Car and Rotem Cars will be available for attendees to tour inside.
In Union Station's Ticket Concourse, guests can immerse themselves in five masterfully constructed and uniquely designed model train displays created by some of the premiere model train clubs in Southern California. Join Group 160 NTRAK Club, Orange County Module Railroaders, Inc., Southern California Traction Club, Southern California Z Scale Model Railroading Group, as well as The Toy Train Operating Society's Southern Pacific Division and The Train Collectors Association's Western Division to celebrate this dynamic and family-friendly hobby. Group 160 NTRAK Club's NTRAK Modular Model Train Layout showcases a 16′ by 28′ three-track mainline layout with a working tornado module, scenery reflective of the US Pacific Northwest along with industry and rural scenes, 40+ car long trains, and an opportunity for visitors to operate a train around the layout – while Orange County Module Railroaders, Inc.'s HO Scale Model Railroad features two main lines and various other trackage across scenery of building, foliage, vehicles and pedestrians highlighting various steam and diesel-era trains and locomotives including Amtrak's Pacific Surfliner. Attendees won't want to miss Southern California Traction Club's incredible Downtown Streetcar Display featuring a highly detailed HO scale downtown scene with tall buildings, complete with operating streetcars and subway trains. Additional model train displays include Southern California Z Scale Model Railroading Group's ZoCal Modular Railroad Group showcasing an assortment of train lines with various types of freight and passenger controlled by Digital Command Control (DCC) allowing control over each individual train engine separately, as well as The Toy Train Operating Society's Southern Pacific Division and The Train Collectors Association's Western Division, which will display The Toy Train Operating Society's Tinplate Pacific Railroad featuring toy trains in Standard Gauge, O-Gauge and S-Gauge from Lionel, Marx, American Flyer and other manufacturers.
Train Festival 2023 attendees will also be invited to celebrate architecture, arts and culture through group and self-guided tours of the station facilitated by partners from California Preservation Foundation (CPF), Los Angeles Conservancy (LAC) and Metro Art. Angelenos and tourists alike can make their way through Union Station to learn about its impact as an architectural marvel, historic landmark, Hollywood film location favorite and buzzy hub for those traveling around, to or from Los Angeles. For a unique guided experience, join California Preservation Foundation for the statewide program, Doors Open California, by participating in one of four Los Angeles Union Station Hidden Gems Tours – a guided walking tour held at 9 a.m. and 1 p.m. daily, conducted by the director of construction and restoration. Registration is required and space is limited specifically for the California Preservation Foundation tours.
Gain valuable knowledge of transportation services offered at the Metro, Amtrak and Metrolink information booths. Guests can also learn and celebrate the history of railroading throughout Los Angeles and Southern California with the Los Angeles Railroad Heritage Foundation (LARHF) whose booth will feature a special membership drive that includes a free copy of LARHF's newest published book, Hollywood's Trains & Trolleys for every new member. For more insight into the the past, present and future of rail, guests can learn the magic of scale model railroading with the National Model Railroad Association (NMRA), the advocacy for expansion and extension of safe, reliable passenger rail service with RailPAC and the fast, efficient future of train travel at the California High-Speed Rail activation station.
A key highlight of the two-day event will include Train Festival 2023 commemorative TAP Cards with a day's worth of free Metro fare loaded onto each card given as a surprise and delight to attendees at designated times each day. Subject to availability.
Los Angeles Union Station, along with its presenting and exhibit partners, is excited to celebrate the extensive legacy and promising future of rail in Southern California and welcomes all to join in these one-of-a-kind festivities.
To learn more about Los Angeles Union Station Train Festival 2023: A Celebration of Past, Present & Future, visit unionstationla.com.
About Los Angeles Union Station
Since its opening in 1939, Los Angeles Union Station has long been considered one of LA's architectural gems and a vital portal to the promise of the California Dream. The Station was designed with an innovative blend of Spanish Colonial, Mission Revival and Art Deco architecture now commonly referred to as Mission Moderne. The bustling 52-acre transportation hub sits in the heart of Downtown Los Angeles offering essential connections to destinations throughout Southern California. An iconic landmark, the Station serves as a vibrant symbol of Downtown's renaissance connecting the historic fabric of the past to the present through arts, culture, transit and community. Conceived on a grand scale, Los Angeles Union Station is the largest railroad passenger terminal in the Western United States and is often regarded as "the last of the great train stations." For more information, visit unionstationla.com or follow @unionstationla on social media.
About Metro
The Los Angeles County Metropolitan Transportation Authority (Metro) is building the most ambitious transportation infrastructure program in the United States and is working to greatly improve mobility through its Vision 2028 Plan. Metro is the lead transportation planning and funding agency for L.A. County and carries nearly 900,000 boardings daily on a fleet of 2,200 low-emission buses and six rail lines.
Stay informed by following Metro on The Source and El Pasajero at metro.net, facebook.com/losangelesmetro, twitter.com/metrolosangeles and twitter.com/metroLAalerts and instagram.com/metrolosangeles.
About Amtrak
For more than 50 years, Amtrak has connected America and modernized train travel. Offering a safe, environmentally efficient way to reach more than 500 destinations across 46 states and parts of Canada, Amtrak provides travelers with an experience that sets a new standard. Book travel, check train status, access your eTicket and more through the Amtrak app. Learn more at Amtrak.com and connect with us on Twitter, Instagram, Facebook and LinkedIn.
About Metrolink
Metrolink regional passenger rail service offers reliable, safe, affordable and environmentally sustainable transportation throughout Southern California. The Agency's 545.6 total service line miles and 67 stations across Los Angeles, Orange, Riverside, San Bernardino, Ventura and San Diego counties connect people, communities, and businesses and is an essential link in the region's mobility network. Metrolink's Arrow service, which launched in October 2022 with nine miles of track and four new stations between San Bernardino and Redlands, provides greater local and regional rail connectivity. To learn more about Metrolink, please visit metrolinktrains.com or follow @metrolink on social media.