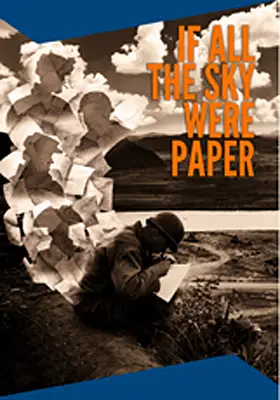 Chapman University's Department of Theatre is proud to announce the world premiere of If All the Sky Were Paper, a new play by Andrew Carroll. If All the Sky Were Paper features an all-student cast and is directed by Chapman University professor John Benitz. Performances will be held November 11-13 and 18-20. The curtain rises at 7:30 each night, with a 2 p.m. matinee on November 20.
If All the Sky Were Paper is inspired by American soldiers' letters from wars ranging from the American Civil War to the war in Afghanistan. This compelling, historical drama depicts the personal experiences of "everyday" American heroes – many of them men and women who never saw themselves as anything but ordinary.
All members of the community are welcome at every performance, but we would especially like to invite your group to attend a very special evening on Saturday, November 13 at 7:30 p.m. The show will be followed by a discussion and audience Q&A with writer Andrew Carroll and director John Benitz, which will be filmed. We are offering discounted tickets to this performance for students and seniors at the rate of $5 each, and FREE tickets for veterans and active military personnel. The normal price of admission is $20 per ticket.
Act now!! These tickets are limited in number and should be reserved in advance. For tickets or more information, contact Pamela Ezell at 714-289-3129 or ezell@chapman.edu.
If All the Sky Were Paper will be presented at the Waltmar Theatre, located on the Chapman University campus in Orange, at the corner of Palm Avenue and Center Street.
Free parking during the Saturday, November 13 performance is available in the structure located under the Chapman football field. It is accessible via Walnut Ave, just east of Glassell St. At all other performances, the parking fee is $2 for 2 hours, $3 for 4 hours. Temporary permits may be purchased at the entrance to the structure at the permit dispenser in the right-hand lane.
"Producing the world premiere of this play is truly a remarkable experience for Chapman University, and for our students," says Professor Benitz. "We want to share this moving and unique play with our community."