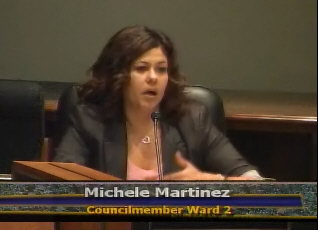 The lame Santa Ana City Council Majority want us to believe that Mayor Miguel Pulido forced them to hire current City Manager Paul Walters, but they were all there at the City Council meeting on May 21, according to the meeting minutes, when they discussed the appointment of Paul Walters, who at the time was the Acting City Manager, in closed session.  It should be noted that three Council Members were late to that meeting – Vince Sarmiento, David Benavides and Michele Martinez.
Those Council Members are now accusing Mayor Miguel Pulido of violating the Brown Act, but what were they doing arriving late to that May meeting – and walking in together to boot?  Did they have an illegal "pre-meeting?"
For some reason Sarmiento did not vote in that meeting for the Consent Calendar items – but the rest of them did and the items included a motion to direct the City Attorney to "prepare an employment agreement for City Manager."  They voted 6-0 for that item!
When the Council later voted in June to hire Walters as the permanent City Manager both Martinez and current Mayor Pro Tem Sal Tinajero blew off that meeting!  Martinez told the O. C. Register that "I was not very excited or happy that Miguel didn't want to do a nationwide search when we had the opportunity," Martinez said. "He forced Paul on us."
Forced Walters on the Council?  Are you kidding?  Martinez and Tinajero didn't show up to vote at that June meeting!  Now they are whining that the vote was forced on them.  They had a chance to voice their concerns in June and they took a pass!  You don't get Mulligans when it comes to these votes Martinez!
Martinez also said that: "The reality is that maybe it's time to take a leap of faith and bring in new people who can lead the city in a new direction," said Martinez, who with Tinajero was absent for the June vote. She said that the city should have continued with a nationwide recruiting effort after the former city manager – David Ream – retired in 2011. Instead, she said that Pulido pushed the council to hire Walters," according to the O.C. Register.
The Council voted unanimously to hire Walters.  And he saved the city from a horrible budget crisis that the Council and the previous City Manager, Dave Ream, created.  Now they want to can Walters because they are trying to punish Mayor Pulido.  This isn't political leadership, it is sour grapes!
My sources also are reporting that Martinez is now running around saying that there are "secret" accounts in the Santa Ana Police Department.  Didn't the cops support her in June when she ran for the Assembly?  She didn't wait long to stab them in the back!  That seems to be her M.O.