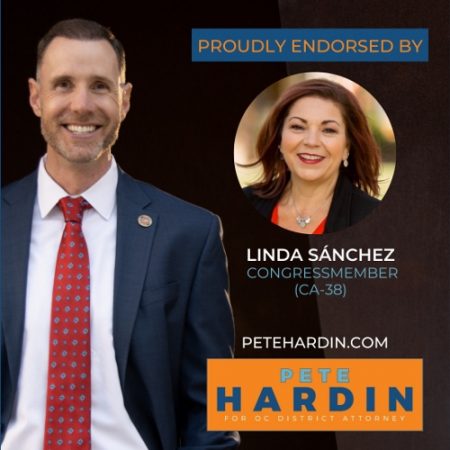 ORANGE – Today, Marine combat veteran and former military prosecutor, Special Assistant United States Attorney, and Deputy District Attorney, Pete Hardin, challenged opponent Todd Spitzer to a series of public debates.
"Homicides and homelessness are up double-digits since Todd Spitzer took office, so it's no surprise that he's trying to distract people with rhetoric about Los Angeles," said Former Marine Judge Advocate Pete Hardin. "From his consultants on the campaign to his actions in office, he has shown himself to be Orange County's very own Donald Trump. He is a tyrant desperate to hold onto power irrespective at any cost. Ultimately, the numbers don't lie, but Todd does, and it's time for him to answer for what's happening here in this community."
The debate challenge comes amidst Spitzer's increasingly unhinged and Trump-style misinformation campaign. For example, Spitzer's tactics of criticizing crime, homelessness and public safety strategies in other counties is novel given the significant increases that Orange County has experienced since he took office. According to the Department of Justice, since Todd Spitzer took office, violent crime is up with homicides surging 20% while assault with a firearm increased a whopping 30%. According to the Department of Housing and Urban Development, since Todd Spitzer took office, homelessness has skyrocketed more than 40%. According to the Human Relations Commission's annual report, hate crimes against the AAPI community jumped more than 1800% from 2020 to 2021 alone.
Meanwhile, as Spitzer holds himself out as a savior of victims and portrays himself as tough-on-crime, an independent report found that he outed the identities and exploited victims of sexual harassment in his own office. According to the independent report, Spitzer "provided an employee's personnel information to a reporter in May 2021, to deflect the negative evidence about his own actions during the Logalbo [sexual harassment] investigation." Spitzer also faces a lawsuit for defaming a victim advocate and maintains the dubious distinction as the first and only DA in California history, if not the nation, to be removed from a case because of his unethical treatment of survivors of sexual assault. Those survivors said that they had been "dragged through the mud" by him.
Aside from his use of victims as political props, DA Spitzer faces a sea of scandals. An investigator he fired won his job back, with the arbitrator finding that the investigator "did what any reasonable person would do by preserving the evidence of Spitzer's suspected criminal conduct."
Ultimately, Spitzer's Trump-style tactics come as no surprise given his employment of former Trump flacks and pandemic profiteers, both of whom were under criminal investigation. In fact, Spitzer even investigated one of the firms he currently employs for bilking Orange County taxpayers for millions of dollars.
Current Orange County District Attorney Republican Todd Spitzer's tenure has been defined by scandal. Four women in Spitzer's office have filed claims asserting Spitzer promoted an employee and close friend despite having been made aware of the sexual harassment complaints against him. Spitzer later allowed the employee, who was the best man at his wedding, to retire with top flight benefits. Spitzer also attempted to drop sexual assault charges against high-profile defendants, leading a judge to remove him from the case. Survivors of the sexual assault survivors were "dragged through the mud" and "grossly mistreated" by Spitzer for two and a half years, leading two of them to abandon their case.