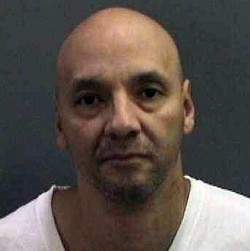 FOR IMMEDIATE RELEASE
Case # 09ZF0079
Date: October 5, 2018
ILLINOIS PRISONER SENTENCED TO RECEIVE DEATH PENALTY FOR SPECIAL CIRCUMSTANCES MURDER OF FIVE SOUTHERN CALIFORNIA WOMEN BETWEEN 1986 AND 1995
SANTA ANA, Calif. – An Illinois prisoner was sentenced to receive the death penalty today for the murders of five Southern California women between 1986 and 1995. The Orange County District Attorney's Office prosecuted a consolidated case on behalf of the Orange, Riverside, and San Diego County victims.
Defendant: Andrew Urdiales, 54
Found guilty by a jury on May 23, 2018, of:
Five felony counts of murder
Sentencing Enhancements
Special circumstances – Lying in wait, multiple murders, and prior murder conviction
(3) Personal use of a firearm
Sentence: Death penalty
In October 2011, Urdiales was extradited to Orange County from the Department of Corrections in Pontiac, Illinois. The District Attorney made the decision to seek the death penalty prior to the defendant's extradition from Illinois. A special circumstances committee consisting of the District Attorney, the Senior Assistant and Assistant District Attorney in charge of the Homicide Unit, and other prosecutors experienced in capital cases met and discussed the nature of the crime, the vulnerability of the victims, the defendant's criminal record, and other factors. The committee also considered mitigating circumstances presented by the defense attorney. The District Attorney decided to seek the death penalty based on the nature of Urdiales' offenses.
District Attorney Tony Rackauckas remarked, "I'm gratified that we finally got this result. When you think about the serial killings and terrible things he did, it's hard to think of Urdiales as a person – he's a human monster. The death penalty is the only just punishment for Urdiales. He doesn't deserve to be on the planet with the rest of us. I am happy we worked as hard as we did on Proposition 66 so this case will move faster through the system."
Between 1984 and 1991, Urdiales was enlisted in the United States Marine Corps. During that time, Urdiales murdered four women, including one in Orange County, two in Riverside County, and one in San Diego County. After his discharge, Urdiales moved back to his home state of Illinois. He murdered a fifth woman while on vacation in Palm Springs in 1995.
Murder of Robbin Brandley, Orange County
On the evening of Jan. 18, 1986, 23-year-old Robbin Brandley volunteered as an usher at a Saddleback College piano concert. That evening, Urdiales drove to the college from Camp Pendleton. After the concert, Brandley walked to her car through a dimly lit parking lot. Urdiales approached Brandley and stabbed her 41 times in the back, neck, chest, and hands with a hunting knife, and fled the scene.
Murder of Julie McGhee, Riverside County
On July 17, 1988, Urdiales picked up 29-year-old Julie McGhee in the Indian Wells area. He drove the victim to a remote area in Cathedral City, had sexual intercourse with her, and shot McGhee one time in the head. The defendant left her body in the desert, stole some of her personal belongings, and fled the scene.
Murder of Mary Ann Wells, San Diego County
On Sept. 25, 1988, Urdiales picked up 31-year-old Mary Ann Wells in San Diego. He gave Wells cash, drove the victim to an alley in a deserted industrial complex, and had sexual intercourse with her. Urdiales then murdered Wells by shooting her once in the head and took back the money he had given the victim. Urdiales left a used condom at the scene that contained both the defendant and the victim's DNA.
Murder of Tammie Erwin, Riverside County
On April 16, 1989, Urdiales picked up 18-year-old Tammie Erwin. He drove the victim to a remote area in Palm Springs, had sexual intercourse with her, and shot Erwin in the head and the left hip.
Urdiales used the same firearm to murder McGhee, Wells, and Erwin. After murdering Erwin, the defendant dismantled the firearm and separately disposed of the parts.
Kidnap, Rape, and Attempted Murder of Jennifer Asbenson
On Sept. 27, 1992, Jennifer Asbenson was waiting at a bus stop on her way to work in Palm Springs. The defendant offered her a ride to work in his vehicle.
The next morning, Urdiales waited outside of Asbenson's workplace and lured her into his vehicle by offering her a ride home. The defendant drove Asbenson out to a remote place in the Palm Springs desert and brutally beat and sexually assaulted her. The defendant repeatedly threatened to kill Asbenson with a knife and a firearm. Urdiales then locked Asbenson in the trunk of his car and drove her even further into the desert. While Asbenson was trapped in the defendant's trunk, she undid a latch and escaped.
Murder of Denise Maney, Riverside County
On March 11, 1995, Urdiales picked up 32-year-old Denise Maney while on vacation from Illinois in the Palm Springs area. The defendant drove Maney to a remote desert area in Palm Springs, forced her to remove her clothes, tied her hands behind her back, and sexually assaulted the victim. He then stabbed Maney several times in the chest and shot her once in head.
Circumstances of the Arrest
In November 1996, Urdiales was arrested in Hammond, Indiana, after police officers observed him in his truck loitering in an area known for prostitution. In a subsequent search of the defendant's vehicle, officers found a firearm Urdiales was not permitted to carry and confiscated the firearm. In April 1997, Chicago police officers received a ballistics match between Urdiales' gun and bullets recovered from the bodies of Illinois murder victims Laura Uylaki, Cassandra Corum, and Lynn Huber. The defendant was subsequently arrested.
Victim Impact Statements
At the sentencing, victim impact statements were read by family members and victim Jennifer Asbenson. Tammie Erwin's father Charles stated, in part, "On April 16, 1989, Andrew Urdiales not only killed my daughter, but he killed me inside. This has ruined my life. It has turned my physical being into pieces; my mental being into pieces."
Jennifer Lundy read a letter on behalf of Linda Erwin, Tammie's stepmother: "We can't live our lives in a normal manner. We can't let go. It's like we are trapped in 1989." Jennifer Asbenson stated, in part, "I want to use the rest of my life to spread joy and empower women. When I am weak, they [the other victims] are my angels." In her concluding points, she stated, "I forgive you Mr. Urdiales."
Senior Deputy District Attorneys Matt Murphy and Eric Scarbrough of the Homicide Unit prosecuted this case.