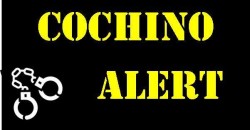 Santa Ana Police Department
Advisory: SAPD Detectives Arrest After School Instructional Provider For Multiple Child Abuse Charges
Eddy Bustamante Infante (23-years-old), a resident of Santa Ana, was arrested for Aggravated Sexual Assault of a Child. Infante has been an After School Instructional Provider / Teacher's Aide at Greenville Elementary School located at 3600 S. Raitt Street in Santa Ana since 2015.
The 12-year-old female victim reported that Infante sexually assaulted her during an after school program when she was only 10-years-old. The victim did not immediately report this incident. Detectives launched an investigation and located additional female victims who reported Infante also sexually assaulted them. To date, SAPD detectives have identified 3 victims in this case.
On October 5, 2018, detectives arrested Infante at his residence. Infante was booked at the Orange County Jail on mul tiple child abuse charges and his bail has been set at $1,000,000.
Santa Ana Police Department detectives believe there may be additional victims and ask anyone with information to contact Detective J. Guidry at 714-245-8530, jguidry@santa-ana.org or Orange County Crime Stoppers at 1-855-TIP-OCCS.