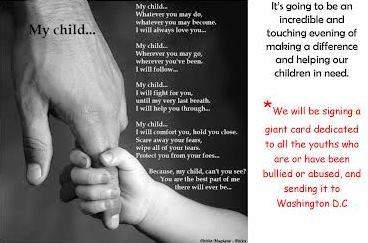 This Friday evening, join Operation Warm Wishes, parents, teachers and the community as we come together to inspire, motive and encourage our bullied and troubled youth. A night of family, fun and love!
Friday, September 18th 5:30 p.m. at Starbucks Coffee, Larwin Square, 552 E 1st St, Tustin, CA 92780.
It's going to be an incredible and touching evening of making a difference and helping those our children need.
* We will be signing a giant card dedicated to all the youths who are or have been bullied or abused, and sending it to the President of the Unites States!
*Bring a non-perishable food item to help feed families and students in need.
Join us for an amazing evening of fun and family at the coffee shop! Bring your favorite family board game.
All ages are invited!