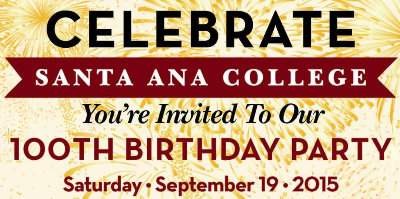 Santa Ana College is hosting their 100th ​​​​​Birthday Celebration this Saturday, Sep. 19, 2015, at 5 p.m.
We're celebrating our 100th Birthday and you're invited to the party!
Open to students, alumni, faculty, community partners and the Santa Ana neighborhood and beyond, our birthday party is going to be a blast. Live entertainment, games, food and plenty of SAC pride is in store. ​​Please view the information below for more on this exciting celebration!
Click Here to RSVP ​on Facebook ​ ​Click Here to RSVP on Google Calendar.
Exciting Zones for EVERYONE:
Live Entertainment–Mariachis, Taiko, SACPack, SAC Jazz Band, Battle of the Dances, World-Renowned Vietnamese Singers and more!
Better Together Family Fun Zone—Disney Imagination Interactive Playground, Games, Sports Clinics, Crafts and Prizes. Includes a Traffic Safety Rodeo—the City of Santa Ana will showcase its pedestrian and traffic safety program with special, educational and fun presentations.
Antique Cars—Visit fabulous classic vehicles while engaging with student actors dressed in period costumes dating back to WWII, hippies, disco, contemporary, and the various eras, while learning about college history and what was happening at SAC during each period. Everyone will be encouraged to take photos and share!
Community Expo—30 non-profit organizations representing healthcare, education, legal and other free or reduced fee services.
Food Truck Row—Local gourmet food trucks will provide a variety of food, refreshments and desserts for participants (prices vary).
Wine & Beer Garden—Santa Ana downtown restaurants, breweries and wine retailers will provide wine and beer tasting with delicious appetizers ($25 for 6 tickets and $50 for 15 tickets).
Social Media HUB—T-Mobile is sponsoring a fun promotional area​ for pictures, online posts, and amazing prizes!
Cupcakes—3,000 free cupcakes will be provided to guests during the event (first come/first serve).
Fireworks—a 15-minute fireworks display with musical accompaniment. Remember to bring blankets for field seating.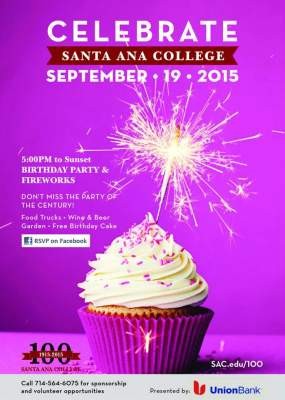 Parking—parking is free to all participants–Lots ​4, 5, 6, 7, 8 and 9 are open to the public.
Dress—we recommend Centennial attire or SAC colors for the day of the event.
Click here for the zone map! ​
Program Schedule
5:00 p.m. All zones open and entertainment begins
8-8:30p.m. Zones begin to close and everyone eases into entertainment area
8:30 p.m. Mariachi Flash Mob
8:45 p.m. Program
9:00 p.m. Fireworks​​
JOIN US AS A VOLUNTEER AT: http://goo.gl/forms/EnQn6AabW8
###