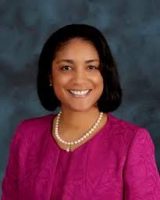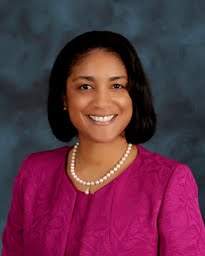 NEWS RELEASE
Dr. Stefanie Phillips Appointed Superintendent of Schools to Lead 7th Largest School District in California
SANTA ANA, CA (July 26, 2016) – After conducting a nationwide search, the Santa Ana Unified School District Board of Education has appointed Stefanie Phillips, Ed.D., as its new Superintendent. Dr. Phillips brings 16 years of experience in educational leadership including three years as the District's Deputy Superintendent of Business & Operations and Chief Business Official.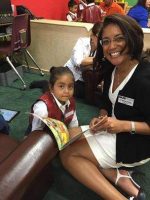 "Dr. Phillips stood out among the candidates. In addition to knowing the District, she brings a wealth of experience that will be invaluable as the District continues to move forward in increasing student academic achievement and opportunities. As the District's Chief Financial Officer, her strong stewardship afforded the District with an opportunity to have a fiscally balanced and prudent budget while providing our employees and students with the resources they needed," stated School Board President John Palacio.
Prior to joining Santa Ana Unified in 2013, Dr. Phillips served as Deputy Superintendent for both the Clayton County School District in Jonesboro, Georgia, where she had direct oversight for the Academic, Human Resources, Operations and Finance Divisions and the Chino Valley Unified School District. She also served as an Assistant Superintendent at Ontario-Montclair School District.
"I am very excited about the opportunity to serve the Santa Ana Unified School District family as the Superintendent of Schools. As our parents, teachers, staff, and community continue to work together to increase student learning, my team and I will focus on engaging the community, increasing communication and connecting all of our stakeholders with the programs and supports that will assist us in ensuring each and every student in Santa Ana Unified reaches their highest potential," said Stefanie Phillips, Ed.D.
As the new Superintendent of Santa Ana Unified School District, Dr. Phillips will be responsible for leading the sixth-largest district in the State of California and the second largest employer in the city of Santa Ana.
Dr. Phillips received her Doctorate from the University of Southern California in Education Leadership, and she received her Master of Business Administration in Finance and Bachelor of Science in Managerial Economics from the University of California, Davis. She has also taught as an adjunct university professor in teacher preparation and leader preparation programs as well as presented in several national and state conferences.
Dr. Phillips is replacing Dr. Rick Miller who will retire from the District on August 1, 2016.
Founded in 1888, the Santa Ana Unified School District is the 7th largest school district in California, and the largest school district in Orange County. The district educates approximately 53,000 students at 57 schools throughout the city of Santa Ana. Approximately 60% of district students are English learners with Spanish being the most common language, and approximately 91% of the student population is eligible for free and reduced-price meals.