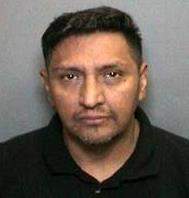 Santa Ana Police Department
Advisory: SAPD Detectives Arrest Barber For Lewd Acts With A Minor. Request Public Assistance In Identifying Additional Victims
On Friday, August 14, 2015, at 11:00 AM, Santa Ana Police Detectives arrested 51-year-old Ruben Olguin of Santa Ana, for PC 288(c)(1), Lewd Acts with a Child. Olguin was arrested from his place of employment, the Salon De Belleza Nuevo Guadalajara, 118 E. 4th St. in Santa Ana.
In July, a 14 year old victim and his mother went to their usual barber, Ruben Olguin, who works in the Salon De Belleza Nuevo Guadalajara in Santa Ana. The victim and his mother had been to the same barber several times and trusted him. Olguin took the victim to a private location to the rear of the Salon to wash and shampoo the child's hair. There, it is alleged Olguin molested the victim while the mother waited in the front of the store.
Olguin is currently being held at the Orange County Jail. Bail has been set at $100,000.
Due to Olguin's access to children and the public, the Santa Ana Police Department is asking for the public's help in identifying any additional victims, or witnesses who may have observed Olguin act inappropriately.
Anyone with information is encouraged to contact Detective Corporal Javier Aceves at (714) 245-8542 or Orange County Crime Stoppers at 1-855-TIP-OCCS.
###