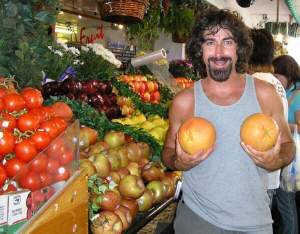 Downtown Inc. is still trying to control the future of a proposed Farmer's Market in Santa Ana.  They are hosting another community meeting to ponder the idea.
Here is the message they emailed to their supporters today:
Everyone is welcome. Your participation is wanted!
Hello Downtown Santa Ana Farmers Market Think Tank!
Gillian and I at OC Food Access look forward to facilitating the first of four meetings to help the community identify:
Farmer's Market Stakeholders (Organizations/individuals involved in or affected by a successful farmer's market in our community) and their Needs
Aspects of a successful farmers market in our community
Local Leadership (that's you!) that can move the market idea forward
Here are the details for our first meeting. Please forward this email to anyone who'd like to participate. Please see our 1st meeting's agenda attached.

Date:          Monday, November 12, 2012
Time:         6:30-8:30PM
Location:   Memphis at the Santora  (open for meeting attendees only)
201 N. Broadway Santa Ana, CA 92701
Please Bring:
Potluck food or drink to share with 12-20 people
Completed Resource-Availability_Worksheet (see attached)
Your thoughts on these questions:
Who are the stakeholders of a downtown FM?
What are the stakeholders' commerce needs?
What are the stakeholders' community needs?
PLEASE RSVP HERE by adding your name
To join the 
Facebook page
 click 
HERE
To add your info or someone else's to the 
Google Docs Contact List
 click 
HERE.
Thank you so much for your passion around access to healthy food and Downtown Santa Ana's community and commerce!

Miré Molnar