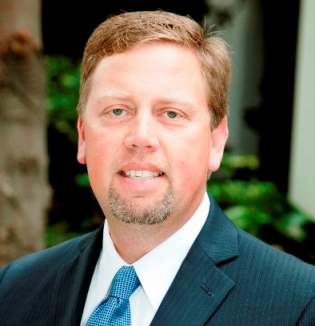 FOR IMMEDIATE RELEASE: March 4, 2013
FOR MORE INFORMATION: Joel Zlotnik (714) 560-5713, Laura Scheper (714) 560-5697
Darrell Johnson Begins Post as OCTA Chief Executive
Johnson replaces long-time transportation veteran Will Kempton who retired Feb. 28
ORANGE – Darrell Johnson began his new post today as the chief executive officer of the Orange County Transportation Authority.
OCTA is the countywide transportation agency with 1,500 employees and an annual budget of $1 billion. Under the direction of a 17-voting member board of directors, Johnson is responsible for planning, financing and coordinating Orange County's freeway, street and rail development, as well as managing bus services, commuter-rail services and paratransit service for people with disabilities.
"Darrell is well-respected among his peers at OCTA and throughout the transportation industry," said OCTA Chairman Greg Winterbottom. "His institutional knowledge and leadership skills are a valuable asset to the agency and we are excited he is stepping into this new role."
Johnson, a 20 year veteran of the transportation industry, joined OCTA in 2003 and has served as the deputy CEO since 2010. As deputy CEO, he helped lead OCTA on local, state and national issues related to transportation programs and policies, and assisted the CEO in coordinating all business, operations and management activities among the agency's seven divisions.
Prior to joining OCTA, Johnson worked at Amtrak for 12 years where he held positions in operations, planning and finance, and contributed to the development of passenger rail services in California, Oregon, Washington and British Columbia.
Johnson was selected by the board of directors to succeed Will Kempton, who retired on Feb. 28 to become the executive director of Transportation California.
"I'm excited for the opportunity to build upon OCTA's legacy of delivering transportation improvements that make this county such a great place to live, work and visit," Johnson said. "I want to thank Will Kempton for successfully steering this agency through one of its most challenging times to become a more efficient organization and I wish him all the best in his future endeavors."
Johnson was recently elected to serve on the board of directors for the American Public Transportation Association and in July participated in the Senior Executives in State and Local Government Program at the Harvard Kennedy School.
He lives in Rancho Santa Margarita with his wife and two daughters.
(PHOTO ATTACHED)
# # #