Santa Ana City Councilwoman Nelida Mendoza is going after the Santa Ana City Attorney, Sonia R. Carvalho, in an 85A agenda item that the City Council will consider at their next meeting, on Nov. 17.
In the agenda item Mendoza is asking the City to explore transitioning from a contracted City Attorney to a directly hired City Attorney. Guess what? That means our City would then be on the hook for more pension and health benefits and probably a higher salary too.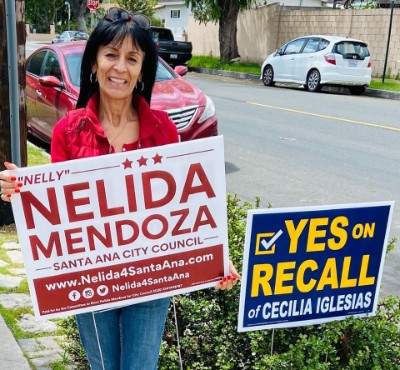 Why would Mendoza do this?
My sources tell me Mendoza is doing the bidding of her handlers at the Santa Ana Police Officers Association (POA), the powerful union that represents our police. The POA paid for the recall of former City Councilwoman Ceci Iglesias after she opposed their irresponsible raise a a couple years ago. That paved the way for Mendoza to replace Iglesias. Now the POA apparently want Carvalho out of the way so she can be replaced with a City Attorney who will do their bidding.
Who on the City Council might go along with this scheme? Well, for starters, probably Mayor Miguel Pulido. But perhaps he should reconsider? Every candidate Pulido backed in the November election lost even after Pulido helped to raise over $200K to help his slate.
You can probably expect Councilman Jose Solorio to go along with Mendoza as well. If Solorio and Pulido side with Mendoza then she only needs one more vote to pass her 85A measure. That vote could come from Councilman David Penaloza, but I doubt it as he appears to have more integrity than that.
Here is how you can submit a public comment that will be included in the next City Council meeting:
TO PROVIDE PUBLIC COMMENTS: (1) SUBMIT VIA EMAIL TO ECOMMENT@SANTA-ANA.ORG BY 4:00 P.M. ON COUNCIL MEETING TUESDAY OR (2) BY PHONE CALL (669) 900-9128, ENTER MEETING ID: 315-965-149# OR (3) BY MOBILE APPLICATION VIA ZOOM AT https://us02web.zoom.us/j/315965149. PLEASE JOIN THE QUEUE BY 5 P.M.ONCE A CALLER HAS ENTERED THE MEETING, THE CALLER WILL BE PLACED IN A HOLDING QUEUE. AFTER THE CLERK UNMUTES THEM, THE CALLER MUST DIAL *6 TO SPEAK OR SELECT UNMUTE ON COMPUTER. IN ACCORDANCE WITH COUNCIL PROCEDURES, CALLS WILL NOT BE ACCEPTED AFTER THE PUBLIC COMMENT SESSION BEGINS.
TO WATCH THE MEETING: LIVE STREAM AT YOUTUBE; CABLE CHANNEL 3 (SPECTRUM) OR CHANNEL 99 (AT&T U-verse).