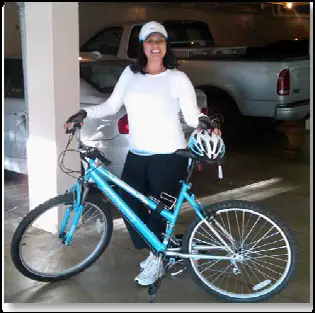 May 13, 2010
PRESS RELEASE: FOR IMMEDIATE RELEASE
Contact: Gail Deebes, Executive Assistant to Councilwoman Martinez, (714) 647-5200
Councilwoman Martinez Peddles a Healthy Message About Cycling
SANTA ANA – Later this month Santa Ana City Councilwoman Michele Martinez will practice what she preaches when she hits the streets of Orange County on her mountain bike and she invites her colleagues from other local municipalities to join her efforts.
On May 20 she will ride her bike from downtown Santa Ana to her job in Anaheim – a total of 20.8 miles – to help draw attention to Bike-to-Work Week, a national event that promotes cycling as a healthy and environmentally friendly alternative to driving.
The following day Martinez will hop on her bike and pedal from the Orange Metrolink Station to Orange County Transit Agency headquarters with OCTA Chief Executive Will Kempton to attend a countywide Bike Rally.
"This is the first time that I will ride my bike to work," said Martinez, who is a project director for The East Street Community Renewal Initiative (ESCRI. To get ready for the nearly 20.8-mile roundtrip to her job, Martinez has been riding her bike 14 miles to and from her gym three times a week.
"I'm just trying to maintain that momentum and draw attention to benefits of cycling and the need for more bike paths and lanes in Orange County," said Martinez, who is an advocate of transit oriented development and Senate Bill 375, which calls for redesigning communities to reduce greenhouse gases created by vehicles.
"We need to move in that direction" we need complete streets where pedestrians and cyclists share common paths, she explained. Complete streets provide people with a range of safe choices for moving around their communities, including walking and biking. Complete streets are people-friendly and support good health.
Santa Ana is a city of more than 340,000 people and the county seat of Orange County. It is strategically located 10 miles from the California coast and 40 minutes southeast of Los Angeles. Home to several Fortune 500 companies and the famous guitar manufacturer Rickenbacker International Corp. and First American Title Corporation, the city has the only Enterprise Zone in Orange County. Over the past decade, the EZ program has provided over $300 million in state tax credits and incentives to companies that have located in the Enterprise Zone.