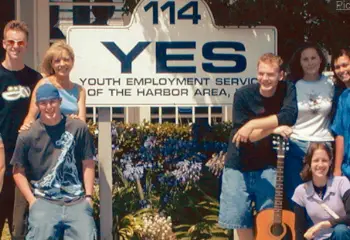 Corinthian Colleges' Employees and Everest College Students Raise $35,000 to Benefit Youth Employment Service
Contribution is Largest Single-Year Private Non-Grant Donation in YES History
SANTA ANA, Calif., August 3, 2011 – Youth Employment Service (YES) of the Harbor Area, a non-profit organization providing employment counseling, training and job referral services for youth and young adults, announced today that it has received a $35,000 donation from Santa Ana-based Corinthian Colleges and its Everest Santa Ana campus.
Corinthian employees raised the funds for YES through individual donations and a silent auction. Massage therapy students from Everest Santa Ana contributed by providing chair massages and donating the proceeds to YES.
While YES has many active and generous private supporters, they noted that the donation is the largest single-year private non-grant contribution received since their founding in 1970.
"Our employees support YES because, like Corinthian, it is an organization that strives to improve the lives of young people," said Jack Massimino, Corinthian's chairman and chief executive officer. "When our employees work together they are able to accomplish extraordinary things."
"We are deeply grateful to Corinthian employees and Everest students for their generosity toward YES," said Kathy Du Vernet, executive director of YES. "This contribution will help support many young people on the road to independence and self sufficiency."
About Youth Employment Service
Youth Employment Service (YES) of the Harbor Area, Inc. is a community- based 501 (c) (3) non-profit organization located in Costa Mesa, California. Founded in 1970 by volunteers who believed that employment and the lessons learned from work were critical for youths' positive development, YES has served as a bridge between young people seeking employment and the business community seeking capable and enthusiastic young employees for more than 40 years. For more information, please visit YES of the Harbor Area's website at http://www.yesworks.org.
About Corinthian Colleges
Corinthian Colleges, parent company of Everest Institutes, Everest Colleges, Everest Universities and Everest University Online, provides career-oriented diploma and degree programs in criminal justice, health care, skilled trades, business, paralegal and information technology. Programs vary by campus. Corinthian Colleges, Inc. is one of the largest post-secondary education companies in North America, and has more than 100 schools in the U.S. and Canada. For more information about Everest College, please visit http://www.everest.edu. For more information about our graduation rates, the median debt of students who completed the program and other important information, please visit our website at http://www.everest.edu/disclosures.
Contacts:
Youth Employment Services
Kathy Du Vernet, Executive Director
(949) 642-0474
kathyduvernet@yesworks.org