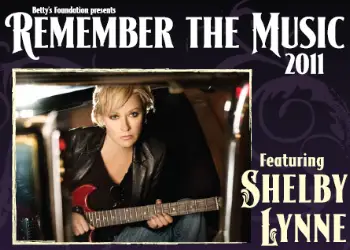 Betty's Foundation presents "Remember the Music" 2011 – a benefit concert that raises money for Alzheimer's disease research, on Sept. 1, at 6 pm, at the Yost Theater.  The concert will feature Shelby Lynne with Briant Wright and Patrick Park.  Please click here for more information.
Betty's Foundation for the Elimination of Alzheimer's Disease is a family operated nonprofit organization that was established in December 2008. Our mission is two-fold: 
1. We aim to eradicate this disease by raising funds for the most innovative and progressive research programs in the country that are fighting to find the cause of and the cure for Alzheimer's disease.
2. We aim to educate families about Alzheimer's disease, and to raise overall awareness of the difficulties faced by those dealing with the disease.
The Alzheimer's Association estimates that as many as 5.3 million people in the United States are living with Alzheimer's Disease and every 70 seconds a new person develops the disease. We aim to preserve memories and stop this disease from hurting our loved ones!
Tickets are $35 general admission.  The VIP Lounge is available for $55, which includes appetizers and there are a limited number of dinner seats available for $150.  Click here to buy reserve tickets.
The Yost Theater is located at 307 N. Spurgeon St., at the East End promenade in Downtown Santa Ana.  Click here for directions.