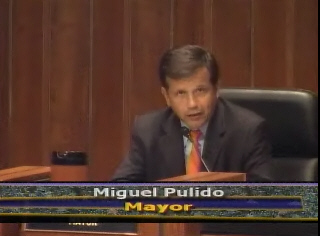 Can't let a rainy day go by without a new edition of Santa Ana Political Chismes, can we?  Church doesn't start for another hour, so here goes…
The Voice of OC recently reported that "As the Santa Ana City Council goes about choosing a new city manager and city attorney — two decisions that will affect the city for years to come — it has become increasingly clear that Mayor Miguel Pulido is not controlling the process."  Santa Ana Mayor Miguel Pulido has lost control of the Santa Ana City Council, however as it turns out he has actually regained control – in his usual fashion.  He has a solid troika, with Councilmen David Benavides and Carlos Bustamante – and now he can add a fourth vote pretty easily.  What changed?  Well, Sarmiento is getting cold feet about running for the Assembly.  One of the other Council Members is going to run for Solorio's seat – who exactly is not yet known.  What we do know however is that they will have to play ball with Pulido in order to get the support they will need to proceed to Sacramento.
Pulido showed who was in control when he was able to stall the City's search for a new City Manager.  The other Council Members didn't like it but his argument made some sense – the city is broke, why not roll with Walters for now?  Pulido got his four votes from what I hear.
I am also hearing that the Santa Ana City Council is in the final stages of negotiations with the Latina who is a public school district General Counsel, who has applied to be the next City Attorney.  I hear that she absolutely kicked the tail of the Filipino lawyer from Los Angeles, who in his interviews came off as just another politician.  The Latina knows her stuff and showed it in her interviews.  The other guy was nowhere near as good.
The O.C. Register's watchdog ripped Pulido for missing a few meetings of the OC Great Park, but I liked that Irvine Councilwoman Beth Krom, who chairs the board of the Great Park, supported him, noting that he works very hard behind the scenes to support the Great Park.  That is true.  He can pick up the phone and call U.S. Senators, California Governor Jerry Brown, etc. and get through every time.  I have no doubt that he has been instrumental in getting funding for the Great Park.
Well, Santa Ana's NIMBY's cost ua a Buffalo Wild Wings, but the O.C. Register is reporting that a Wingstop is opening in Santa Ana next week.  They already have a website up at this link.  They are opening up at 2801 W. MacArthur Blvd., Suite C, at the corner of MacArthur and Fairview in The South Coast Marketplace.  Wingstop offers premium wings in nine flavors.  Can't wait!
The next Santa Ana City Council meeting is this Monday, at 6pm.  I hear it is going to be a doozy.  Click here to read the agenda, which notes that the PBID realignment is up for a vote (they pulled in its boundaries); a CUP for Karmina Restaurant; and a CUP for the gay bar, Velvet Lounge.
In the agenda for Monday's meeting note that Mayor Pro Tem Claudia Alvarez is really going after the PBID and Downtown Inc.  The rest of the Council though appears to be in support of the PBID modifications.