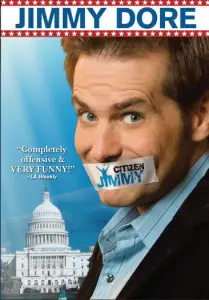 Jimmy Dore will be the headliner at the "Killing in the Name of Cannabis" Comedy Show in Santa Ana, on Oct. 9
"Why is marijuana against the law? It grows naturally upon our planet. Doesn't the idea of making nature against the law seem to you a bit . . . unnatural?" ~Bill Hicks.  "Good men must not obey laws too well." ~Ralph Waldo Emerson
Killing in the Name Productions presents… Killing in the Name of Cannabis!
Do you want to end the war on drugs? Are you tired of good people going to jail because of prohibition? Do you commit civil disobedience so much that your friends call you Dr. Martin Luther Kush? Well, put down that bong and get ready to make a difference!
This is a comedy show benefit for OC NORML (National Organization for the Reform of Marijuana Laws). A donation at the door gets you entrance to a hilarious stand-up comedy show. The headliner is pro-cannabis comedian Jimmy Dore!
There will be a raffle at the end of the night with amazing prizes, including mystery patient gifts. Tickets are $1 each, or 6 tickets for $5.
Show is 21+. Door opens at 6:30. Show starts at 7 PM.
Location:
Malone's Bar and Grill
604 East Dyer Road
Santa Ana, CA 92705
(714) 979-6000
https://www.facebook.com/pages/OC-NORML/163539825254
www.facebook.com/KitNProductions
Note: Malone's has asked us to observe federal law on their property, so please medicate elsewhere. Think of it this way: if we raise enough money from shows like this, one day we'll be able to smoke on the patio.