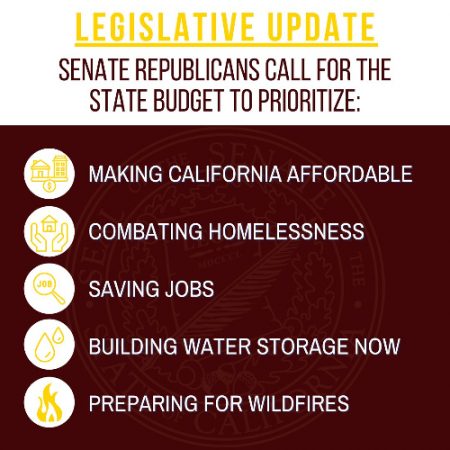 SACRAMENTO – Today, Legislative Republicans in both the Senate and Assembly called on Governor Newsom to convene an Extraordinary Special Session of the Legislature to immediately address homelessness, rather than waiting for action through the traditional Legislative calendar for 2022.  
Led by Senator Patricia Bates (R-Laguna Niguel) and Assemblywoman Janet Nguyen (R-Huntington Beach), legislative Republicans highlighted some of the actions a Special Session could take to combat this crisis. 
"We have been wrestling with this problem for decades now, and it always seems to get worse," said Senator Patricia Bates. "It's time for real results, most of all for the countless homeless people suffering in our neighborhoods and communities. A Special Session will bring needed focus. We can, and must, do better."
"California is spending more money on solving the homeless issue than ever before yet we have over 70,000 more people experiencing homelessness than the second closest state in the nation," said Assemblymember Janet Nguyen. "My family and I experienced this shocking reality firsthand 3 nights ago when a homeless man on drugs attempted to break into our backyard. I am frightened for my children's and family's safety and the safety of all Californians. We must come together to discuss and find solutions to this growing problem. I look forward to the governor's response."
The following legislative Republicans signed onto the call for a special session. Click here to download the full letter.