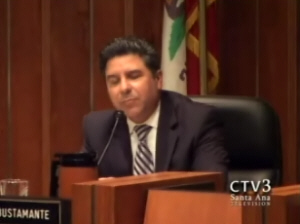 Editor's Note: Santa Ana Council Member Carlos Bustamante has been arrested on multiple felony charges.  We are taking this opportunity to bring back a post featuring exclusive emails from one of his alleged lovers.
Carlos Bustamante, an executive manager with the county's Public Works department and a Santa Ana city councilman, has been placed on paid administrative leave from his county job, the county's Human Resources director confirmed Thursday.  The leave was imposed after the county received an anonymous letter last month detailing allegations of a sexual nature against Bustamante, an executive manager overseeing Public Works' Facilities and Fleet Services divisions, according to the O.C. Register.
I have known about this since May 19, 2009, when I first started to receive emails from an anonymous lady who claimed that she was having an affair with Bustamante.  In her emails, which continued through March of this year, she outlined everything that had gone on between her and Bustamante.
I held on to the information because I did not want to wreck Bustamante's family – but now the cat is out of the bag.  If the allegations are true there is little doubt that he will be fired from his County of Orange management job, where he earns $178,277.  And I suspect he will have to also resign, in shame, from the Santa Ana City Council.  If this alleged behavior isn't a violation of the City of Santa Ana's Code of Ethics, I don't know what else would be!
Here are a few excerpts from the emails I received from Bustamante's alleged lover – I am not releasing her name, email address or the full content of the emails, out of respect for her:
May 19, 2009: This is your lucky day.  I have dirt that you would love, love, love on one of your nemesis.  This is scandal stuff.  Let's just say, things are not what they seem for one superficial family in Santa Ana.  That's all it is for this certain family.  Just "on the surface" show.
May 19, 2009:  Trust me, I would love to see this woman's face when she finds out. I'd like to say it would send her packing back to the barrio where she came from, but I think with a divorce, she may make out like a bandit!
May 19, 2009:  I have this idea that a certain "someone" in your local gov't has affairs, but gives his wife high end gifts, just to throw her off his cheating ways.  Like I think she thinks, if he gives me these high end items, then he must really be "loving" and f*cking me and just me.
May 19, 2009:  Well, that's nothing.  I've got real dirt!!!!!!!!!!!  Messing w/ladies at work?  There's a difference between messing and flirting.  What is it w/these boys?  Ever notice how they cover for each other and there's nepotism going on.  What's that about?
May 21, 2009: Personally, I don't think any Bustamante should hold any kind of civic position in SA.  They have no ethics, they're only in life for themselves and their ego.  They don't care who they hurt.  It really isn't about the public good.  One of them admitted it's a SELF thing.  All about his SELF.
May 21, 2009: Do you think if the citizens of SA knew about their lack of character they would still trust them in office?
May 21, 2009: Yes, the Bustamantes are all elitists!  So, I'm surprised that the boys married girls from the "barrio".  Meaning, I would think they would marry girls from a little more higher class, if you know what I mean.
May 21, 2009: One of these "B" brothers told me that he and his wife needed each other because they have little kids at home.  Not because they love each other from the depths of their soul or heart, but because they have little kids at home.  Yet admits he'd like to continue and affair.  I'm so sick to my stomach.  What a sham….and that's the kind of people you have helping to govern SA!
May 21, 2009: Like I said Art, I am not proud of myself, so I am not excusing myself, but one day we were making out in public, I wish there was someone there to shoot a picture and mail it to his wife!
May 21, 2009: This is just my opinion Art, but I don't think making a bra joke is what makes Carlos unethical, I mean it's such a guy thing to say those kind of things….big deal!  What I find despicable about that family is they vote on issues for their own gain.  Like, didn't they vote for an issue for a big developer over there, and then bought real estate from the same guy?  Lack of ethics!
May 22, 2009: Art, help me get into the minds of men, I know many types of men do it, but there seems to be a prevalence with Latino men, but how can a man say I love my wife, but I still want to have this affair?  And it's an affair that's been going on for a year.  I don't get it.  I can understand a man telling me, I'm not that into my wife anymore, or the spark is gone with us, or she doesn't give me attention anymore, so I have an affair, but I don't understand how a man can say, I love my wife, yet I've been having an affair that's been going on for over a year.
May 26, 2009: Art, hope you had a fun holiday.  I just spoke with the "B" I'm horsing around with. He told me he's shaking in his boots because he's afraid I might tell someone.
May 27, 2009: He feels fear, that's what he tells me, so that's for certain!  But I don't think he feels guilt. He'd feel guilt, but only if he's caught, so I don't think guilt would be a genuine feeling for him at this time.
June 2, 2009: You know my fantasy Art?  My fantasy is to have someone photograph me and "B" and have the pictures sent to his wife at home….then I would kill to be a fly on the wall when she sees those photos.
June 4, 2009: I did tell one friend who knows his name and knows mine (of course) that I have a extramarital involvement with him.  And I told her if anything happens to me, point the finger at him.  The "B"s are like wolf in sheep's clothing.  They can be charming, and they look harmless, but there is no conscience there….or they put their conscience to an area way back in their psyche.  That's what makes them dangerous….they're in it for themselves!  You know, before I met him, I was told my several people he's all about himself….now I know what they mean!
Sep. 27, 2009: I thought of writing a letter, but I thought, what if she just thinks "someone is making it up because they don't want to see us happy and they're jealous." Maybe I can describe what he likes sexually…maybe then she'll believe it…what do U think?
Sep. 30, 2009:  Things are awkward with The Pig and me since I threatened to tell his wife. What a joke. The word wife when it comes to him….I mean, what really is a wife? Someone to cheat on?
Sep. 30, 2009: I told one of my friends about my affair with him and his name just in case something happens to me. That's why I think I should meet you sometime, in case something happens to me, someone will know who to go after or point the finger at.
Oct. 9, 2009: However, if I was the wife of a pig, I would want to know. I also think there are others he's intimate with at this time. I don't put it past him. He seems to validate himself by his conquests. That's the message I get from him.
Jan. 7, 2010: He asked me yesterday, "Do you just want to see me divorced?" I said I don't care what happens to you or your family or your kids!" honestly though yes, I'd like to see him divorced because I don't care about the pain they would go through. He doesn't seem to care about my pain!
Oct. 1, 2010: One thing I've discovered is because of their parents, their father was a "dog" and their mom wasn't nurturing at all, those two twins don't really know how to love. How sad, honestly!
Oct. 8, 2010: It's driving him nuts alright! Now he's blaming me. He said if I tell his wife and he gets divorced, his kids will come from a broken home and if I do that to his kids he'll never forgive me. Art, tell me one thing. Why doesn't he ever say, "I've done this to my kids. I had an affair for two years?"
March 7, 2011: Btw, even "the pig's" own close friend tells me he's mucked up. Both of the twins. When I say he's a sociopath, the friend even agrees. Sad that they're in office. The twins compete against each other, you know. It's like they attempt to have status because their mother's set them up to compete against each other. How warped! They don't care about the betterment of of others. They just want to be in the limelight, to prove they are something to their mom and everybody else.  Those boys parents are mucked up!!!!! Which is why the boys are mucked up and deviant and can look like angels in front of people, but I know what they're like behind closed doors. I know first hand!
Clearly, Bustamante needs to resign from the Santa Ana City Council – and if all of these allegations are true he needs to apologize to his family and to the lady he allegedly messed with for so long.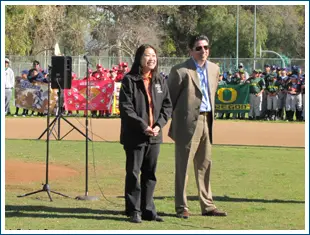 Supervisor Janet Nguyen endorsed her fellow Republican, Carlos Bustamante, in 2008