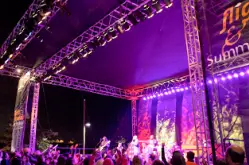 FOR IMMEDIATE RELEASE: JULY 27, 2011
CONTACT: JENN STARNES, 949-724-6574
Branford Marsalis, Lucinda Williams and Preservation Hall Jazz Band Headline 2011 Flights & Sounds Summer Festival
IRVINE –Grammy Award winning jazz artist Branford Marsalis, world-renowned New Orleans Preservation Hall Jazz Band and Grammy Award nominated Lucinda Williams will headline the Orange County Great Park's 2011 Flights & Sounds Summer Festival. Five Friday night dance parties and Saturday night concerts celebrate the vitality and variety of American music and the growing influence of Latin American, Middle Eastern and East Indian music and dance in the United States.
The fun begins August 5 with a salute to the City of Irvine's 40th Anniversary featuring DJ HAPA, who will kick off the summer Friday night dance parties with a Disco-themed set. On August 6 Branford Marsalis, of the famous jazz family and known from his stint as bandleader on the Tonight Show, will open the Saturday concert series with melodic jazz, blues and funk. Live music begins at 8:15pm, Friday and Saturday nights.
This year's outdoor Flights & Sounds Summer Festival will take place near the brand-new Palm Court Arts Complex and expansive North Lawn, under the glow of the Great Park Balloon. Admission is free, and parking is $10. Visitors will also be able to enjoy the Park's inaugural exhibition in the newly-opened Great Park Gallery, Plane Air Power by Jorg Dubin.
Eclectic singer and dancer Nuriya blends sizzling vocals, rumba flamenco, Afro-Cuban rhythms and Arabic melodies on August 12. Louisiana born singer and songwriter Lucinda Williams will light up the stage singing folk, country, rock and pop on August 13.
Shotgun Wedding Quintet's unique blend of gypsy funk, rap and swing will drag you to the dance floor on August 19. San Francisco's Jazz Mafia, one of the hottest, most inventive forces in jazz, will mix hip-hop symphonic music and whatever else works on August 20 for some spectacularly energizing music.
H'Sao, a six-piece band with roots in gospel, R&B, soul and African sounds will perform their high-energy music and masterful a cappella vocals on August 26. Grammy Award winner Del McCoury brings his lonesome vocals and a bluegrass band to the Great Park on August 27.
Get your "turban groove" on when BlackMahal a rollicking, unpredictable, wildly danceable band, performs its blend of hip-hop, and Punjabi funk on September 2. The world-famous Preservation Hall Jazz Band will bring the Festival to a close on September 3.
The Hangar Café will re-open in the newly-renovated historic Hangar 244. It will feature a fresh selection of delicious food that will be available for purchase to enjoy at the Café or on the lawn before the dance parties and concerts. Live music begins at 8:15pm. Hangar Café opens at 6pm before all shows.
Flights & Sounds Summer Festival is presented by the Orange County Great Park and produced by the Irvine Barclay Theater. Both theater-style fixed seating and lawn space is available for all shows. Concerts and dance parties are located at the Orange County Great Park, off the 405 or 5 Freeways at Sand Canyon and Marine Way in Irvine. For more information go to www.ocgp.org
About the Great Park
The Orange County Great Park, with its 1,347-acre master plan, is the focal point of the redevelopment of the publicly-owned portion of the 4,700-acre former Marine Corps Air Station, El Toro. The Great Park is currently nearly 60 acres and includes an iconic tethered helium balloon that rises 400 feet in the air, providing an aerial view of Park development. A $70 million development plan to expand the Park to more than 200 acres is currently underway, building on a core section of the Park for the most immediate and wide-ranging public benefit. The Great Park Farm, Palm Court Arts Complex, North Lawn recreation area and other features are already complete, and the South Lawn soccer fields and Community Garden will be complete in 2012. For more information, please go to www.ocgp.org
###