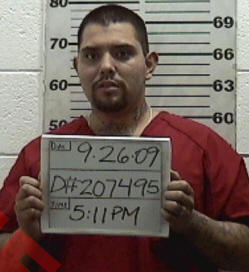 Picture courtesy of the U.S. Marshals
TONY RACKAUCKAS, District Attorney
ORANGE COUNTY DISTRICT ATTORNEY PRESS RELEASE
FOR IMMEDIATE RELEASE: Date: July 27, 2011
Susan Kang Schroeder, Office: 714-347-8408, Cell: 714-292-2718
Chief of Staff Farrah Emami, Spokesperson, Office: 714-347-8405, Cell: 714-323-4486
OCDA TO OPPOSE PAROLE OF MAN CONVICTED OF 1976 KIDNAP-RAPE-MURDER OF MOTHER IN FRONT OF HER SON
Inmate committed the crime during a crime spree including kidnapping, theft, robbery, a high-speed pursuit and police stand-off
SANTA ANA – Orange County District Attorney (OCDA) Tony Rackauckas is opposing the parole of a man convicted of kidnapping, raping and executing a woman in front of her young son during a 1976 crime spree. Gilbert Lovato, 53, is currently being held at Mule Creek State Prison in Ione, CA. Lovato was sentenced May 15, 1981, to life in state prison for one felony count of first degree murder with a 6-year sentencing enhancement for the use of a firearm. This case was originally prosecuted by former Deputy District Attorney Daniel T. Brice. Lovato is scheduled for a parole hearing tomorrow, Thursday, July 28, 2011, at 1:30 p.m., at the prison before the Board of Parole Hearings, California Department of Corrections and Rehabilitations (Board).
Orange County Deputy District Attorney Israel Claustro will appear at the hearing to oppose Lovato's parole.
Crime Spree
Lovato, then-18 years old, went on a violent crime spree in December 1976, committing grand theft, firearm theft, robbery and kidnapping with the use of a firearm. On Dec. 11, 1976, Lovato and an accomplice stole two motorcycles from Draco's Motorcycle Shop in Santa Ana. The inmate and his accomplice also robbed a storekeeper at a Santa Ana doughnut shop using a sawed-off shotgun and took approximately $40 cash. On the night of Dec. 13, 1976, Lovato approached a 25-yearold woman in a store parking lot and asked her for a ride to a gas station. He walked with her and asked her repeatedly for a ride until she finally agreed. As she drove out of the parking lot, Lovato held a knife to the victim's ribs and ordered her to drive. As she drove along, the victim realized they were being followed. When they came to a stop, a male co-defendant approached the car on the passenger side and gave Lovato a sawed-off shotgun. The victim jumped out of the car and ran away to escape. She was picked up by other motorists and the kidnap was immediately reported to police.
Kidnapping-Murder of Maria Padilla
On Dec.17, 1976, at approximately 10:30 p.m., 22-year-old Maria Padilla and her 2-year-old son left for the bank so she could deposit her paycheck. They never returned home. Lovato kidnapped Padilla and her son from their van and drove them to an isolated location in San Juan Capistrano that he was using to hide from police. Lovato raped and then executed Padilla by shooting her in the head while her son watched.
Lovato left the victim's half-naked dead body and her helpless son on the side of the highway. For the next two days the victim's son slept on her body and wandered the highway until he and his mother's lifeless body were found. Police had been searching for Padilla and her son because the victim's husband had filed a missing persons report.
After the inmate's violent kidnap, rape and execution of Padilla, Lovato fled to his hometown in New Mexico in the victim's stolen van. On Dec. 27, 1976, Santa Fe police received a request to help locate the van and the inmate by the Orange County Sheriff's Department. When Lovato realized he was spotted by patrol officers, he led police on a high-speed pursuit.
The inmate fired three shots at police officers using the same gun used to murder Padilla. The pursuit ended at a restaurant, where Lovato held the restaurant patrons hostage and fired his gun at the ceiling. The inmate eventually surrendered after Special Weapons and Tactics officers arrived at the scene.
Lack of Rehabilitation, Remorse, and Threat to Public Safety.
Since his incarceration, Lovato has continued to be violent and show a complete disrespect for the rules by accruing 25 prison rules violations. While admitted in Las Vegas State Mental Hospital in 1977, the inmate escaped and fled to California and was later apprehended. Four years later, while in custody in Orange County, the inmate actively participated in a violent sexual attack and sodomized a jail inmate.
Two weeks later, on April 20, 1981, Lovato was one of the five inmates who took an active part in the attack and attempted murder of jail inmate Dwayne McKinney, while in possession of a sharpened nail. In 1982, McKinney was in custody after he was prosecuted by then-Deputy District Attorney Tony Rackauckas for a 1980 Burger King robbery-murder. In January 2000, it was determined that McKinney's conviction was unreliable and District Attorney Rackauckas sought an order to overturn his conviction. Superior Court Judge Kazuharu Makino ordered McKinney's immediate release from the state prison in Lancaster. McKinney supported District Attorney Rackauckas' re-election campaign in 2002, including walking precincts to advocate for his candidacy. In 2008, McKinney, who became a self-made millionaire, died in Honolulu after he was injured in a moped accident.
In 1987, showing a complete disregard for authority, the inmate struck a correctional officer without any provocation, causing injuries to the officer's face and hand ligaments.
In an opposition letter written to the Board, the People state that "the inmate has poor institutional behavior… and has not achieved the progress expected of someone who has remained institutionalized for over 33 years. The inmate was admonished since his first parole hearing in 1989 to develop a marketable skill or upgrade vocationally and participate in self-help. In 33 years of incarceration, the inmate has done neither."
The inmate has shown no remorse or insight into the murder he committed and continues to deny any involvement in the kidnapping, rape and murder of a mother while her son watched. Considering Lovato's criminal history before and after the crime, ongoing violent and extensive disciplinary record, his lack of remorse for the murder, and his lack of vocational training, the inmate poses a significant risk to public safety and should not be released into the community.
###
www.orangecountyda.com • 401 Civic Center Drive West, Santa Ana, CA 92701