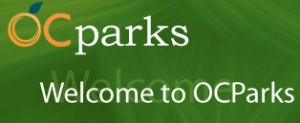 FOR IMMEDIATE RELEASE: July 27, 2011
MEDIA CONTACT: OC Parks PIO Marisa O'Neil (714) 973-6870, marisa.oneil@ocparks.com
OC PARKS WINS NATIONAL AWARDS
County parks association also recognizes Irvine Company Chairman Donald Bren for his 20,000-acre donation.
[IRVINE, Calif.] – OC Parks recently won six national awards for county parks services, programs and marketing.
The National Association of County Park and Recreation Officials (NACPRO) recognized OC Parks with three awards and the National Association of Counties (NACO) awarded top honors in three categories.
NACPRO Awards
OC Parks won the Parks and Recreation Program Award for its Camino de Esperanza program. The award recognizes a county park and recreation agency that has provided a unique or exceptional program, activity, or event which provides an outstanding example that other agencies could adopt or emulate.
The Camino de Esperanza ("Trail of Hope") program, created by OC Parks and the Orange County Probation Department, brought incarcerated youth from the Youth Leadership Academy on field trips to OC Parks facilities to inspire and educate each participant. The goal of the program was to create a program that would allow these at-risk youths to experience an "outdoor classroom" to learn about habitat, adaptation and biology from subject matter experts in a natural environment. The park rangers served as both guides and positive adult role models.
Camino de Esperanza also won a NACO Achievement Award.
OC Parks also won the NACPRO Marketing Award for its social media efforts about a wild bald eagle in Irvine Regional Park. It was the second year in a row that OC Parks won the marketing award, which recognizes a marketing effort demonstrating unique, significant, or exceptional outcome. The award category includes projects involving market research, marketing plans, promotion, advertising and use of information technologies such as websites.
OC Parks publicized the wild eagle's visits to the park – and to the OC Zoo's resident bald eagle Olivia – through its YouTube, Facebook and Twitter accounts. Local and national print, online and broadcast media outlets picked up the story, which generated a half million dollars' worth of publicity. Zoo attendance during the period increased by 40% and visitation to the OC Parks website and social media outlets also increased significantly.
NACPRO also recognized Irvine Company Chairman Donald Bren with the Friends of Parks and Recreation- Outstanding Contributor award for his donation of 20,000 acres of protected open space to OC Parks.
The Outstanding Contributor award is presented to an individual who has made a significant contribution of land or fiscal resources to county parks and recreation.
Bren made the donation, the largest land gift in County history, in 2010. It increased the size of OC Parks by 50%, to nearly 60,000 acres. The land has been designated a Natural Landmark by the US Department of the Interior and the State of California.
Additionally, OC Parks Director Mark Denny was named President-Elect of NACPRO. Denny is now slated to serve as NACPRO President during the term of August 2012 to July 2013. During that term, NACPRO will hold its Board meeting and annual county park tour in Orange County in conjunction with the National Recreation and Park Association (NRPA) annual Congress in Anaheim in October 2012.
NACO Awards
The annual NACO Achievement Awards recognize innovative county government programs.
In the winning Mars and Stars Program, OC Parks partnered with NASA's Jet Propulsion Laboratory (JPL) to host a series of educational public programs showcasing NASA's unmanned missions to Mars. Four different OC Parks facilities (Upper Newport Bay Nature Preserve, Caspers Wilderness Park, Carbon Canyon Regional Park, and Irvine Regional Park) hosted these free events during 2010. The public had the opportunity to listen to JPL scientists and mission specialists discuss Mars Rover expeditions, look at travelling exhibits used in space, and gaze at the stars with telescopes provided.
NACO also recognized Second Sundays at Upper Newport Bay Nature Preserve. These monthly habitat restoration events regularly attract more than 100 volunteers. Activities include native plantings, trash pick-up and trail work throughout the year. All programs take place under the guidance of staff and require no experience at all to volunteer.
# # # #
OC Parks
The OC Parks system encompasses regional, wilderness and historical facilities, as well as
coastal areas throughout the County of Orange in California. Featuring nearly 60,000 acres of
parkland, open space and shoreline, Orange County's award-winning parks and programs are
enjoyed by millions of residents and visitors each year, in ways as diverse as the parks
themselves. http://www.ocparks.com.