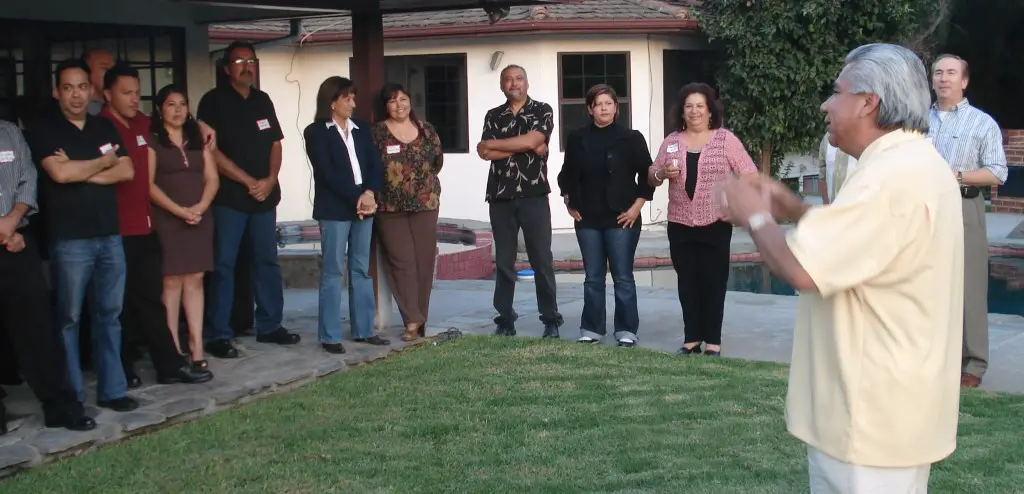 Al Amezcua speaking at Art Lomeli's home in Orange Park Acres, in 2008
Santa Ana voters can check out how the other side lives on Sunday, August 29, when Art Lomeli, a dentist and Santa Ana landlord, hosts yet another fundraiser for mayoral candidate Al Amezcua, at his home, located at 20208 East Rogers Drive, in swanky Orange Park Acres, from 5 pm to 8 pm.

Lomeli is a Republican, as are many of Amezcua's supporters.  Lomeli ran for the Rancho Santiago Community College District's Board of Education in 2008.  Amezcua served as Master of Ceremonies at a fundraiser for Lomeli, at Lomeli's home, so it would appear that Lomeli is now returning the favor.
In 2008, Amezcua supporter Ruben Alvarez opposed Lomeli, instead supporting his opponent, another Republican from Orange named Lisa Woolery.  Alvarez also opposed the mayoral campaign of Santa Ana Councilwoman Michele Martinez, in 2008.  He supported the incumbent, Mayor Miguel Pulido.  Alvarez is now working closely with Lomeli on the Amezcua campaign, so I would imagine all is forgiven.
At any rate, if you want to attend this event call 714-973-8797.  Amezcua's campaign email notice about the event does not note the cost to attend.