An interview with 'Miss Santa Ana 1967', Pamela Ponte Gallegos
Mrs. Gallegos, to begin with, myself having been a resident of Santa Ana for many years, at various times I have been involved with the city's historical society as well as being active in my historic neighborhood, 'Wilshire Square'. With a fondness for history and the past and as a collector and seller of 1960's music and antiques, that is the curious way which brought me to you. Back in 1995 while on an antiques buying trip driving across the country in my 1959 Cadillac, I was in an antiques store in Albuquerque, New Mexico sifting through boxes of old papers and photos. I came across four city of Santa Ana, California street maps from 1960, 1965, 1966 and 1967. When folded up, each of them had a black & white photo of 'Miss Santa Ana' on the front. Your image as 'Miss Santa Ana 1967' was a stunning and perfect example of mid-1960's female class, elegance and beauty. Since discovering those maps, I have always wondered what became of 'Miss Santa Ana 1967 – Pamela Ponte, as well as the other ladies who were associated with the other city maps . Years later, I saw an on-line a post by you to a page where people were commenting on their memories of the old 'Saddleback Inn' on East 1st Street. Thanks to the internet, here we are today. So, are you a Santa Ana native?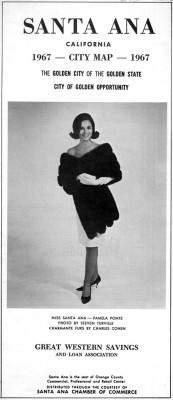 Pamela Ponte Gallegos:
I actually grew up in Santa Ana. My family moved to Tustin when I was in the 6th grade. I went to a convent school in Guadalajara Mexico for a year as a freshman. When I returned to California, I continued my high school education at Marywood. It was in Anaheim in those days. The nuns who taught me at Marywood were the 'Sisters of Providence of St. Mary of the Woods' of Indiana.
Anthony Reichardt:
You must have fond memories when you look at your photo as Miss Santa Ana – 1967. Looking back it must be quite thrilling seeing yourself photographed and presented in such a glamorous way.
Pamela Ponte Gallegos:
Yes, that's me on the cover of that 1967 city map. A gentleman by the name of Charles Cohen, who owned Cohen's Furs supplied that beautiful fur.
Anthony Reichardt:
What were those days like as a city beauty queen?
Pamela Ponte Gallegos:
It was a wonderful time. I wish I had a photo taken of the grand opening of Angel Stadium in Anaheim where myself along with all of the other city queens of Orange County lined up on the field to for form a living 'A'. What memories!
Anthony Reichardt:
Were you acquainted with any of the other young ladies who also served as Miss Santa Ana?
Pamela Ponte Gallegos:
Leetrianae Fernandez preceded me as Miss Santa Ana 1965 and then she went on to become Miss Orange County. She was not only beautiful, but a real class act. She was a cousin to Sarajane Bartholomae who was Miss Newport Beach – 1965 and later Miss Orange County as well. Sarajane's father, William Bartholomae was accidently stabbed to death in a misunderstanding by his housekeeper in 1963. Just a bit of Santa Ana/Orange County history! I actually served two terms as Miss Santa Ana. The Chamber of Commerce needed me after the young lady who succeeded me failed to keep her appointments.
Anthony Reichardt:
What were you required to do as Miss Santa Ana?
Pamela Ponte Gallegos:
Some of my duties were to attend grand openings and pose for photos with the Chamber of Commerce and town fathers. In those days, they were the nicest gentlemen anyone could ask for and I really had a wonderful time. Back then I was working as a pharmacy technician while I went to college. I met a gentleman who hired me at the local bank, 'Bank of Santa Ana'. I initially trained to became a teller and over time, eventually worked up to secretary to the bank president. I would sit in on board meetings and hear all sorts of interesting things about the local businessmen who had applied for loans. What a business education!
Anthony Reichardt:
Where you with the bank for very long?
Pamela Ponte Gallegos:
From there I was hired away by one of the bank's biggest accounts, the gentleman who co-founded Standard Pacific Homes Corp., Art Svendsen.
Anthony Reichardt:
That company is still in business today. You seemed to be getting quite a lot of local business experience at that time.
Pamela Ponte Gallegos:
I certainly did. From there, I was employed at the Saddleback Inn on East First Street. That was the headquarters of the company, Saddleback Inns of America. The company attempted to take the Early California concept of hospitality through the Southwest. We did eventually build a few in Arizona and were working on Colorado, etc., when they just gave up. I worked for Bruce Gelker, the owner of the company. He was a fascinating gentleman who had served in WWII, played in the Rose Bowl for USC in 1944 and gathered many, many famous sports figures around him at his wonderful Inn. I was Bruce's secretary from the late 1960's to the early 1970's. He was really the greatest gentleman who ever set foot in Santa Ana, His wife, Lois was a doll. A absolute double of Doris Day with the personality to match.
Anthony Reichardt:
It sounds like Saddleback Inn was a wonderful place to work for at that time.
Pamela Ponte Gallegos:
I think back fondly on that time. Bruce was tireless in promoting all of the wonderful events at that gorgeous venue. From USC buses to the 'Coulda, Woulda, Shoulda Banquet' to honor the last chosen in the NFL draft with Paul Salada who was also a wonderful gentleman, by the way. That event would usually draw about 400 of the movers and shakers!
There was also an annual 'Western Days Fiesta' where everyone wore costumes. I still have photos from that. Those certainly were the days. So many wonderful memories. Some people thought that I was the model for the 'Saddleback Girl' but it was another earlier version of me, I think. Wherever Bruce is now, I hope that he is healthy and happy and that his family is also doing well. He had the nicest kids.
Anthony Reichardt:
Does any other memory stand out in your mind during your time at the Saddleback Inn?
Pamela Ponte Gallegos:
As a matter of fact, that is where I met my husband-to-be, Rudy Gallegos. He says that we met before this particular event and has pictures to prove it but I don't remember! Anyway, there was a function for the opening of the Sports Gallery at the Inn. The event honored several sports personalities of the day who were present, such as Armando Ramos – lightweight champ, Raul Rojas – featherwight champ, Archie Moore – light heavyweight and Dan Gurney – race car driver. I really didn't want to go the event but Bruce insisted that I attend. After a while, Bruce wanted to leave to go home and be with his family. It was the evening so I had to stick around. Well, the rest is history. Rudy and I have been married for over 45 years. We have two wonderful sons and two wonderful grandchildren.
Anthony Reichardt:
That is a great story! What line of work was your husband in at that time?
Pamela Ponte Gallegos:
Rudy is a contractor and was responsible for such wonderful buildings as:
Main Public Library in Santa Ana on Civic Center Boulevard
Western Regional Headquarters of the Bank of America on North Main Street (later the O.C. Pavilion)
Santa Ana Stadium on North Flower Street built in just three months to accommodate the football season
Skate Ranch on North Main Street Town & Country Shopping Center across from what is now Main Place Mall
Hoag Memorial Hospital in Newport Beach
Thousands of residential units at various U.S. military installations
Anthony Reichardt:
You certainly have had some memorable experiences having been entrenched in Santa Ana's history for over five decades. From Miss Santa Ana – 1967, to Bank of Santa Ana, to Standard Pacific Homes Corporation, to the Saddleback Inn and Gallegos Construction. Thank you so much for taking the time to share your memories of Santa Ana's past.