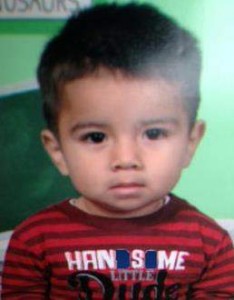 California Highway Patrol
AMBER ALERT ACTIVATION – LOS ANGELES
THIS IS AN AMBER ALERT MESSAGE FROM THE CALIFORNIA HIGHWAY PATROL

A child abduction occurred on May 23, 2014 at 6:36 am, in Los Angeles, CA.  The child's name is Edwin Vargas, a 2-year-old Hispanic male.  The suspect is Abraham Vargas, a 27-year-old Hispanic male.
Vargas is possibly driving a 2004 orange Nissan Quest with the CA License Plate number of 7CIN189.  The vehicle is thought to have tinted windows.
Instructions:
If the child is located please contact 911.