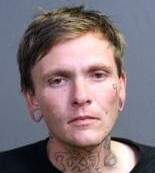 Costa Mesa Police Department
Advisory: Notable arrest: Vehicle burglary

While the Costa Mesa Police Department (CMPD) has not seen an uptick in vehicle burglaries, we would like to highlight this arrest as a reminder that "if you see something, say something." CMPD would also like to thank the vigilant neighbor, who called us to report suspicious activity.
Today, Oct. 18, 2017, at approximately 12:27 a.m., officers responded to the 900 block of Victoria Street regarding a possible vehicle burglary. The caller had contacted police after seeing a male suspect in his neighbor's vehicle. Officers quickly detained a subject on foot nearby who fit the suspect description.
Kyle McMullin, 25, Costa Mesa, was found to be in possession of a flashlight, backpack, two-way hand held radio, and narcotics, which he attempted to hide. McMullin was subsequently arrested for vehicle burglary, possession of burglary tools, possession of a controlled substance, and destroying or concealing evidence.
Prevention tip: make sure vehicles are locked at night and valuables are not left inside cars overnight.
Emergency line: 911
CMPD non-emergency: 714-754-5252