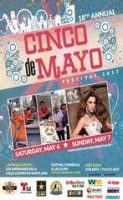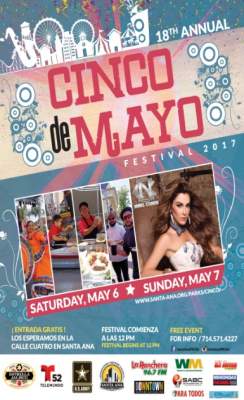 City of Santa Ana, Downtown Orange County
Community: The 2017 Cinco de Mayo Festival / Festival Cinco de Mayo 2017
SANTA ANA – The City of Santa Ana's 18th annual Cinco de Mayo Festival is taking place on Saturday, May 6 and Sunday, May 7, 2017. The festivities will begin at 12:00 p.m. each day on Fourth Street in historic Downtown Santa Ana. This annual tradition celebrates Santa Ana's vibrant Mexican culture with live entertainment, including top level performers each night, delicious food, affordable shopping, interactive art activities, and exciting carnival rides for children of all ages. The festival will also include cultural art components throughout the event, as well as a Beer Garden which will be open for adults only to enjoy cold, refreshing beverages.
On Saturday, May 6, the festival's main stage will feature the talented performances of various Ballet Folklórico and local school dance groups. The event's international flavor will be brought to the stage through the impressive performances of professional Fandando, Salsa, Cha Cha and Flamenco dan cers. A second stage on the west end Fourth Street will also feature crossover performances by popular and upcoming local bands. These talented artists' sensational performances will offer something for everyone to enjoy!
On Sunday, May 7, the beautiful and talented singer and actress Ninel Condes' performance will be the festival's culminating act. Born in Toluca, Estado de Mexico, Ninel's career was launched with the successful release of self-titled album in 2004, which was nominated for a Grammy Latino. Since then, Ninel has achieved international stardom with her music and acting roles on telenovelas and theater productions. Ninel's spectacular performance is bound to be a memorable one not to be missed!
The Cinco de Mayo event is being produced by the City of Santa Ana. Booths and sponsorship opportunities are still available. For more information, please contact the Special Events Office at (714) 571-4227.
——————– ———————————
Festival Cinco de Mayo 2017
SANTA ANA – La Ciudad de Santa Ana celebrara el 18o Festival Anual de Cinco de Mayo el Sábado, 6 de Mayo y el Domingo 7 de Mayo, 2017. Las festividades darán inicio ambos días a partir de las 12 del medio día en la Calle Cuatro en el centro histórico de Santa Ana. Esta tradición anual celebra la vibrante cultura Mexicana en Santa Ana con entretenimiento incluyendo artistas de primer nivel, comida deliciosa, artesanías tradicionales, y actividades interactivas incluyendo grandes juegos mecánicos para niños de todas las edades. El Festival también incluirá componentes de arte cultural, así como un jardín de cerveza (abierto sólo para adultos) para disfrutar bebidas refrescantes.
El sábado, 6 de mayo, el escenario principal del festival contará con las actuaciones de varios talentosos grupos de Ballet Folklorico y de baile de las escuelas locales. El sabor internacional del evento será traido al escenario a través de las impresionantes actuaciones de bailarines profesionales de Fandando, Salsa, Cha Cha y Flamenco. Un segundo escenario al oeste de la Calle Cuatro también contará con la presentación de bandas populares crossover locales. Las actuaciones sensacionales de estos artistas talentosos ofrecerán algo para que todos disfruten!
El domingo 7 de mayo, la bella y talentosa cantante y actriz Ninel Condes se presentara para dar cierre de broche de oro al Festival. Nacida en Toluca, Estado de México, la carrera de Ninel comenzo con el exitoso lanzamiento en el 2004 del CD auto titulado "Ninel Conde" que fue nominado para un Grammy Latino. Desde entonces, Ninel ha alcanzado el estrellato internacional con su música y actuación en telenovelas y producciones teatrales. ¡La presentaciono espectacular de Ninel está destinada a ser memorable, no se la puede perder!
El evento Cinco de Mayo es producido por la Ciudad. Ap licaciones para puestos de venta y oportunidades patrocinios están disponibles. Para más información sobre el evento, favor de llamar a la Oficina de Eventos Comunitarios al (714) 571-4227.
###
CONTACT:
Jeannie Jurado
Community Services Manager
Parks, Recreation and Community Services Agency
(714) 571-4251
jjurado@santa-ana.org