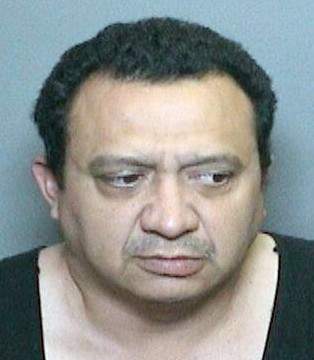 Jose Luis Aguilera, a 42, a Santa Ana man, was convicted today of several felony counts for molesting young girls that he met through his Jehovah's Witness congregation, according to the O.C. Register.
Aguilera was convicted on four counts of lewd acts on a child younger than 14, but charges of kidnapping for child molesting and four counts of lewd acts on a child younger than 14 did not stick because the jury deadlocked. He was also acquitted of another count of lewd acts on a child younger than 14, according to court records.

Aguilera will be sentenced on May 19. A pretrial hearing on the deadlocked counts has been set for the same date. It is not yet known if the prosecutor on the case will retry Aguilera on those counts.
Aguilera  was charged with several felonies including nine counts of lewd or lascivious acts with a minor younger than 14 and one count of kidnapping for child molesting. The charges date back as far as January of 2o12 through 2015.
Aguilera finally got busted when one of his victims told her mom what happened. In that case Aguilera told the little girl's mom that he was going to take her 6-year old daughter and his own daughter to Chuck E. Cheese, on July 22, 2015. But when Aguilera showed up to pick up the woman's daughter he was not accompanied by his own daughter.
Aguilera then told the little girl that he needed to stop by his apartment to change his shirt and that he would then pick up his daughter at school so they could all go to Chuck E. Cheese. But after Aguilera changed his shirt he allegedly pulled down the pants of the little girl. She then ran out of the room crying and washed her face in the bathroom, according to the prosecutor, Senior Deputy District Attorney Heather Brown.
Aguilera ended up picking up his daughter and then he took the girls to another restaurant but the victim was so distraught that she did not eat. Aguilera then took the girls to Chuck E. Cheese and the victim ended up throwing up. Aguilera then told his own daughter that the other girl was sick because she ate a bag of peanuts, according to Brown.
The victim ended up telling her parents what had happened. The parents then called the police and a covert call was set up between the defendant, Aguilera, and the alleged victim. The call was recorded and used as evidence in the trial this week.
When word got out in the community about what Aguilera had done other parents at his church began to talk. One of the mothers recalled that when she babysat Aguilera's daughter she said she saw her father kissing another girl.
Two other girls then alleged that Aguilera had molested them.
When Aguilera was interrogated by the police he at first denied touching any of the girls. But then later he gave confusing and inconsistent replies. He even said he could not recall if he molested the girls or not.
Apparently two of the alleged victims are cousins and three of the four victims are members of the same church congregation. Two of the victims also go to the same school.
The Public Defender said that one girl at first denied she was molested – after telling the police that Aguilera was nice to her and he gave her a teddy bear.
The Prosecutor said that Aguilera routinely gave the victims money and gifts and them took them to eat at a Burger King – to keep them from talking about the ongoing molestation.