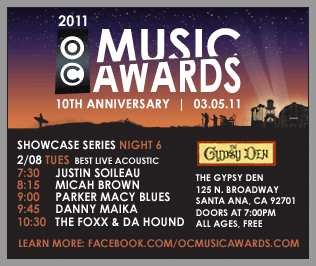 The 10th Anniversary OC Music Awards Showcase Series makes its sixth stop of the season at The Gypsy Den in Santa Ana, tonight, Feb. 8, for the last event in the Best Live Acoustic Showcase category leading up to the Best Live Acoustic Finals at the Fullerton Museum on Thursday, February 24.
The Gypsy Den is located at 125 N. Broadway, in Santa Ana's Artists Village.
Last week's Live Band Showcase at The Tiki Bar reached record Showcase capacity with over 650 music fans in attendance supporting local music. This Tuesday at The Gypsy Den is sure to be another full event with acoustic performances by Justin Soileau, Micah Brown, Parker Macy Blues, Danny Maika, and The Foxx & Da Hound competing for the Best Live Acoustic title.
All the OC Music Awards partners will be onsite in The Gypsy Den and on 2nd Street Promenade. BUD LIGHT drink specials, team popchips will be distributing tasty chip snacks and have their fan photobooth out in action and KROQ's street team and favorite personality, Beer Mug, will play host to the evening.
Fans can visit OC Music Awards FANVOTE online now through February 15 and help one artist in each category with the most votes automatically move onto the Showcase Series Finals and enter to win a $500 gift card from Best Buy, one year of complimentary Wahoo's Fish Tacos, two tickets and one hotel room in Las Vegas for Red Bull's SoundClash on March 12, one year supply of complimentary popchipsa custom OC Music Awards guitar compliments of Ernie Ball.
Click here to view the 2011 OC Music Awards Schedule
Visit the Awards page on KROQ.com to read exclusive articles on each of tonight's performers:
Click here to RSVP on Facebook.  This is a FREE event!