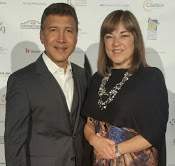 U.S. Congresswoman Loretta Sanchez Endorses Re-election Of Santa Ana Councilmember Vicente Sarmiento
SANTA ANA – Santa Ana Councilmember Vicente Sarmiento announced today that U.S. Congresswoman Loretta Sanchez has formally endorsed his re-election to the Santa Ana City Council.
"I am proud to have Congresswoman Sanchez's support and confidence," said Sarmiento, who presently serves as the City's Mayor Pro Tem.  "An asset to Orange County and our community, I have enjoyed working with Loretta over the last decade to secure important federal funding for a variety of law enforcement, transportation, affordable housing, and community development programs for the City of Santa Ana."
"I am very much looking forward to continuing to work with her next year after her election to the U.S. Senate," continued Sarmiento.
Sarmiento is a native of Santa Ana, who proudly returned home with his wife Eva after receiving his Bachelors Degree in Economics from UC Berkeley and his Law Degree from UCLA, to help make Santa Ana a thriving and vibrant city.  During his ten years on the City Council, he has championed strengthening the City's finances, increasing funding for additional police officers and public safety resources, lowering the city's unemployment rate, improving and repairing the city's local streets and roads, and creating new open space in town.