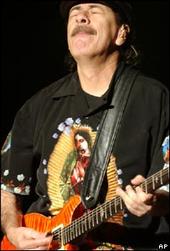 Don't miss the tribute to Carlos Santana, at the OC Pavilion this Friday, October 2nd, at 8:00 pm.
Celebrating the unforgettable rich, fiery, latin rock of Carlos Santana. This collaboration of fine musicians/entertainers explode on to the stage and masterfully capture the soulful riffs and rhythms that are Santana's signature.
The flurry of the timbales and congas, the rockin' rhythm section, the dynamic horns and, of course, the heart that emulates Santana's soulful lead guitar, bring songs such as "Black Magic Woman", "The Game of Love", "Oye Como Va", "Maria Maria", "Europa", "Soul Sacrifice", and "Smooth" to life! Jump on to this energetic journey and this powerful 11-piece band will take you on a ride through Santana's self-titled first album of 1969 all the way through his current hits from "Supernatural."
This riveting ninety minute tribute makes for an intensely energetic, passionate show that will have everyone dancing! Since its inception, this electric musical experience has been striking a chord with music lovers of all ages, quickly becoming one of the most popular entertainment groups on the West Coast.
Additional Information :
For Tickets: Call (714) 550-0880
Carlos Santana: http://www.myspace.com/carlossantana
John "Carlos" Depatie: http://www.myspace.com/johndepatie
Mike Jerome
Bob Fazio
Dave Goldstein
George Rossi
Scott "Pistol" Crockett: http://www.myspace.com/pistolcrockett
Albert Estiamba Jr.
Gerald Ishibashi
Walter Wagner
Kevin Norton
About the Venue
OC Pavilion
801 North Main Street, Santa Ana, CA 92701