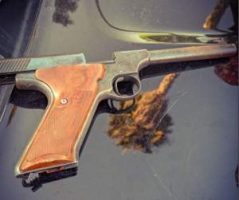 Santa Ana police officers responded to a man with a gun call at the Red Roof Inn at 2600 N. Main St., on the evening of May 17, according to their Twitter account.
The suspect was armed with a handgun and had pointed the weapon at the victim.
The suspect was taken into custody and a loaded handgun was recovered from the suspect's waistband.
This Red Roof Inn is always full of riff-raff. Unfortunately they are in a nice part of town, next to the Discovery Cube and the MainPlace Mall.