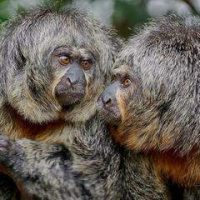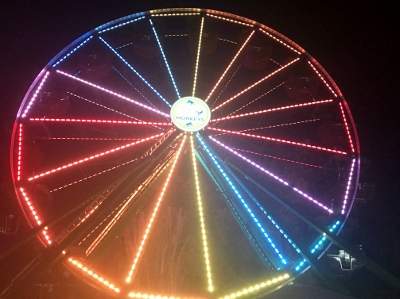 "FIFTY MONKEY FERRIS WHEEL" OPENS AT THE SANTA ANA ZOO on Saturday May 26!
The 64-Foot Ferris Wheel at the Santa Ana Zoo will Soar Up in the Air Carrying a Projected 65,000 Riders Every Year!
Cathi Decker, Executive Director of Friends of Santa Ana Zoo (FOSAZ), announced the Grand Opening of the "Fifty Monkey" Ferris Wheel at the Zoo on Saturday, May 26. It is the first Zoo in the United States to put in a permanent thatched-roof style wheel. Nestled between the Zoofari Express Train and the Conservational Carrousel, the Fifty Monkey Ferris Wheel is the perfect addition for this local Zoo, providing a total of three child-friendly attractions to be shared and enjoyed by all ages. The ribbon cutting will be at 11 AM.
Editor's Note – the Santa Ana Zoo's next free day for Santa Ana residents is this Sunday, May 20. Proof of residency (driver's license, utility bill) will be required upon arrival…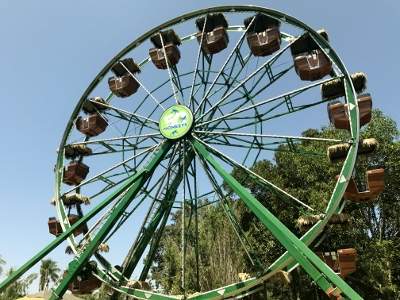 The 64-foot Wheel soars at the entrance to the Crean Family Farm, placing a signature stamp onto this family favorite area. The Wheel is expected to welcome as many as 65,000 happy riders per year, which, together with the Train and Carrousel, will generate a projected game-changing gross income total of close to one million dollars annually. Executive Director Cathi Decker applied calculations based on the "synergy of three" (incremental ride increases based on a study of when three rides are aligned together) to compute these numbers. Net revenue will be used for Zoo improvements which enhance the Zoo for visitors and its animal residents alike.
Uniquely designed to spotlight the Santa Ana Zoo's Fifty Monkey heritage, each fully-contained gondola features a unique endangered monkey, furthering the Zoo's dedication to the education of environmental conservation through the preservation of endangered species. Educational graphics telling the story of Joseph Prentice and the Zoo's requirement to house fifty monkeys at all times in order to maintain the land are found along the loading queue-line walkway.
"Having been a part of Friends of Santa Ana Zoo for over seventeen years, the Fifty Monkey Ferris Wheel at the Santa Ana Zoo is one of the most exciting undertakings I have been part of," said FOSAZ Director of Operations, Kevin Jackson. "This attraction is sure to become a great community icon, serving families from all over Orange County and beyond for many years to come. I consider it a privilege to be part of the team bringing this beautiful Wheel to our community and am enjoying seeing the first riders' smiling faces as they go around!"
Built by best-in-class manufacturer and Ferris wheel innovator, CHANCE Inc., the Fifty Monkey Ferris Wheel is engineered for long-term safety and success.
"FOSAZ would like to thank Larry Breitenstein and CHANCE Inc. for designing and manufacturing a thatched-roof, century-style Wheel that blends in seamlessly with the Zoo's thematic elements. FOSAZ would also like to thank Gordon Nelson, Vice President and Joseph Gehley, Vice President of U.S. Bank for helping us to acquire the loan needed to fund the construction and the building of the Wheel to be paid off in seven years," added Executive Director Cathi Decker.
The Fifty Monkey Ferris Wheel is open 7 days a week, 365 days per year (except on severe weather days) from 11 AM to 4 PM on the weekends; and 11 AM to 2 PM on the weekdays. Rides last approximately 10 minutes. During special events, the Wheel will stay open for longer hours. The Santa Ana Zoo is home to more than 260 animals, including 60 of the most interesting and engaging monkeys and several endangered species, like the golden lion tamarins. The Zoo is open daily from 10:00 am – 4:00 pm. The Santa Ana Zoo in Prentice Park is located at 1801 Chestnut Avenue, Santa Ana, CA 92701. For more information call 714-836-4000 or visit www.santaanazoo.org. Follow The Santa Ana Zoo on Twitter and Facebook.