The Orange County Mosquito and Vector Control District has bowed to massive public pressure and canceled their plans to spray chemicals on our homes for the remainder of the 2015 mosquito season.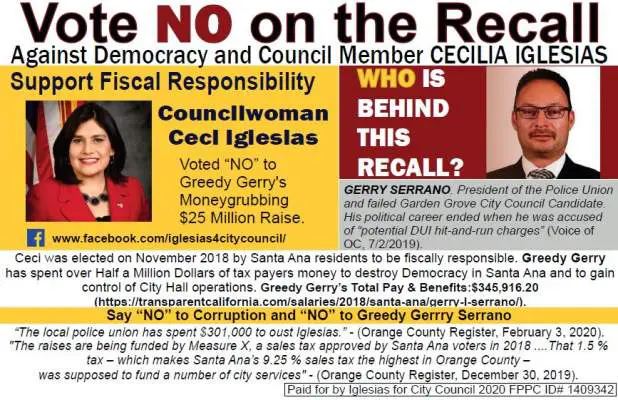 The same thing happened last year.  In both cases there was bad weather that contributed to the Vector Control District's downfall.  But this time public pressure accelerated very quickly.
Isn't it time for Santa Ana to have a voice on the O.C. Board of Supervisors?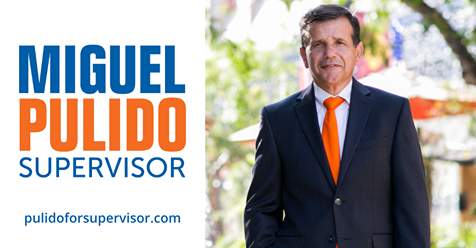 Paid for by Miguel A. Pulido for Supervisor 2020 (ID #1422663)
A Facebook group formed to rally those opposed to the spraying.  That group quickly grew to over 2,800 members and in the process has become a new political force in Orange County.  
Advertisement
Is your employer a mess? Call Sasooness.
In the state of California for every 5 hours worked an employee must get a 30 minute, uninterrupted lunch break. For every 3 hours worked an employee must get an uninterrupted 10-minute rest break. Working over 8 hours in a day or 40 hours in a week is due overtime. Don't let your employer screw you! Give us a call at 323 746-8099.
En el estado de California por cada 5 horas de trabajo su patrón le debe permitir tener un receso de media hora sin interrupciones. Si trabaja más de 8 horas en un día o más de 40 horas de trabajo en una semana su patrón le debe pagar tiempo y medio. No deje que su patrón abuse de su trabajo. No importa que no tenga papeles. Usted tiene derechos. Llamenos al 323 746-8099.
And the Disneyland Resort got involved – they scuttled the spraying that was scheduled for Sep. 9, 2015, by refusing to allow the Vector Control District to fly a plane over their resort.
This whole mess has really backfired on the Vector Control District's Manager, Michael Hearst.  He tried to pull a fast one by announcing this latest attempt to conduct aerial spraying right before the Labor Day holiday but we quickly rallied the public against him and his plans – just like we did in 2014.  This time however we had a lot more help!
It is obvious that the Vector Control District has to scare the public in order to justify their continued existence.  They take millions of dollars from Orange County taxpayers every year via property assessments.  The events of this week should lead to the closure of the Orange County Vector Control District.  The Orange County Health Care Agency can take over what they do and contractors can be used, as needed, in the field.
We need to continue to apply pressure to the members of the Vector Control District's Board and to the O.C. Supervisors.  Click here to find the contact info for your O.C. Supervisor.  Click here for a contact list of all the members of the O.C. Vector Control District's Board.  We should demand the closure of the Vector Control District – or at least the dismissal of Hearst.
The Vector Control District stated in an update on their Facebook page that:
The aerial application scheduled for September 9-10, 2015 has been cancelled. No aerial applications have been conducted or will be conducted for the remainder of the 2015 mosquito season.

OCMVCD has received notification that the permitting process to enter restricted airspace over Orange County can take up to five business days. If granted, the District would have to reinstate our notification process to all affected communities and municipalities.

In respect to requests by the public to be afforded more time to receive this information and get answers to any concerns or general inquiries about the application, the District would have to extend the pre-flight notification period.

This series of events would significantly delay the applications. This delay would diminish the goal of reducing adult mosquito populations during peak West Nile virus transmission period.

In consideration of these factors, aerial applications are no longer planned for the 2015 season.

The District asks that the public remains vigilant with personal protective clothing and mosquito repellents. Inspect your yard for standing water after the recent rainfall where mosquitoes can breed.

Refer to the OCMVCD (www.ocvcd.org) website for more information about West Nile virus and the shared responsibility of vector control.
The company hired by the District to do the aerial spraying, Clarke/Dynamic Aviation, also released a statement:
The safety of any mosquito control operation is our primary concern, and appropriate communications with regulatory bodies is of paramount importance.

Dynamic Aviation, the subcontracted flight services provider for the operation, was not able to secure final permission for the federal Temporary Flight Restriction over approximately half of the established spray block. As we could not safely recommend flight operations in that area without the requisite permits, we recommended to OCMVCD to delay the operation.
Here are some more local elected and appointed officials you should contact to demand that Hearst be fired and/or the Vector Control District be shut down: