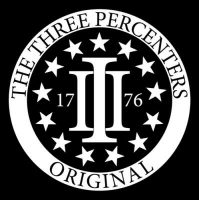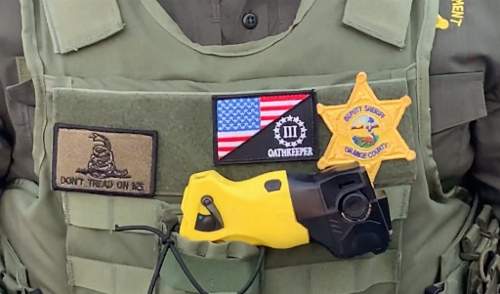 SANTA ANA, Ca. (June 3, 2020) – We are aware of photos and video regarding an Orange County Deputy Sheriff wearing patches on his uniform that are associated with extremist groups.  These symbols are not department-approved and are prohibited by policy, and contradict the values of the Sheriff's Department. First and foremost, thank you to the many members of the public who brought this to our attention.
"This deputy's decision to wear these patches, and the implication of his association with an extremist group, is unacceptable and deeply concerning to me," said Sheriff Don Barnes. "Any symbol can have multiple meanings and is open to interpretation, which is why wearing of non-approved symbols and patches is strictly prohibited. Instances like this can forge a wedge separating law enforcement from the community we serve, especially during these turbulent times."
A core mission of the Orange County Sheriff's Department is to provide public safety services free from prejudice or favor and to listen to the concerns of the community we serve.
The Department is conducting an internal investigation. In addition, we have re-briefed all employees regarding our uniform policy.
CAIR-LA: Orange County Sheriff Must Investigate Deputy Wearing Right-Wing Militia Patch
(LOS ANGELES, CA – 6/3/2020) – The Greater Los Angeles Area office of the Council on American-Islamic Relations (CAIR-LA) today called for the Orange County Sheriff's Department to investigate a deputy sheriff caught on camera wearing a patch supporting right-wing paramilitary groups on his uniform.
The unidentified deputy was part of a group of deputies in Costa Mesa on Tuesday night in response to a protest of the murder of George Floyd. A publicly shared video shows the deputy wearing on his uniform what appears to be a patch of the United States flag partially covered by the logo of the Three Percenters above the word "Oathkeeper," located in the middle of his tactical vest.
The Three Percenters is a patriot movement that pledges armed resistance against attempts to restrict private gun ownership. The group was co-founded in 2008 by Mike Vanderboegh, who is well known for his violent rhetoric. He published an online novel describing a future confrontation where activists with patriot movement views engage in shootout with law enforcement and plan to murder government officials.
In Idaho, the group has mobilized religious hatred and xenophobic hostility, organizing public rallies against Syrian refugee resettlement.
The Southern Poverty Law Center, a non-profit civil rights organization, has described the "Oath Keepers" as a "fiercely anti-government, militaristic group."
https://www.splcenter.org/fighting-hate/extremist-files/ideology/antigovernment
SEE: OC Sheriff deputy forgoing his name badge to wear a patch promoting the far right, racist Three-Percenter militia group at tonight's protest in Costa Mesa.
https://www.reddit.com/r/orangecounty/comments/gvn42k/oc_sheriff_deputy_forgoing_his_name_badge_to_wear/
In a statement, CAIR-LA Executive Director Hussam Ayloush said:
"It is outrageous that a member of a law enforcement organization would be so brazen as to apparently wear a symbol of violence, discord and bigotry on his uniform, especially in the wake of the murder of George Floyd.
"We demand that the Orange County Sheriff's Department (OCSD) investigate this incident, identify the officer and take appropriate action. We also call for the OCSD to formulate a clear policy against the display of such offensive material and to apologize for this lack of oversight."
Ayloush urged community members to report any bias incidents to police and to CAIR-LA's Civil Rights Department at 714-776-1177 or by filing a report at: https://bit.ly/2L9Ezsw.
CAIR-LA is Southern California's largest Muslim civil liberties and advocacy organization. Its mission is to enhance understanding of Islam, protect civil rights, promote justice and empower American Muslims.