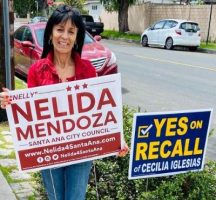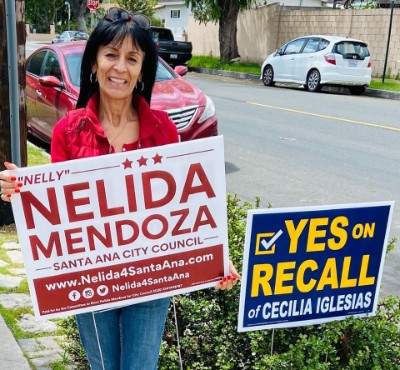 SANTA ANA, Calif. – Councilmember Nelida Mendoza was sworn in as the new Ward 6 representative on the Santa Ana City Council on Tuesday, June 2.
The City Council also declared the results of the May 19 special recall election in which former Ward 6 Councilmember Cecilia Iglesias was removed from office. Councilmember Mendoza was chosen by voters to serve the remainder of the term that expires in December 2022.

The Orange County Registrar of Voters certified the election results last week.
"I'm proud to serve on the Santa Ana City Council during this challenging time," Councilmember Mendoza said. "I will help guide our community into a future of safe neighborhoods, economic growth, well-maintained roads, positive collaboration with our law enforcement agencies and greater transparency at City Hall. One of my top priorities is to continue food distribution to needy families during the COVID-19 pandemic. I also intend to find long-term solutions to the homelessness crisis through a collaborative, multi-agency effort."
Mayor Miguel A. Pulido welcomed Councilmember Mendoza.
"Councilmember Mendoza's long history in Santa Ana, her community involvement and her varied educational and professional experience will be a welcome addition to the Council," Mayor Pulido said.
A U.S. Army veteran who has lived in Santa Ana since 1965, Councilmember Mendoza is returning full circle to where she began her professional life. In her early career, she served as a secretary in the City Manager's Office and personnel clerk in the Human Resources Department for the City of Santa Ana.
She took a leave of absence from the employment arena to raise her family of five children, who are now adults and professionals in their own careers. Councilmember Mendoza has been a loyal Santa Ana property owner since 1986.
Upon re-entering the work force, Councilmember Mendoza secured a position as Court Clerk for the Orange County Superior Court and was a Paralegal with Orange County District Attorney's Family Support Division, which later became the Department of Child Support Services, from 1997 to 2018.
Councilmember Mendoza was appointed as a Commissioner on the City of Santa Ana's Environmental and Transportation Advisory Commission (ETAC) by then-Councilmember Claudia Alvarez, and as the Chairperson for the Community Redevelopment and Housing Commission.
Councilmember Mendoza was elected to the Rancho Santiago Community College District Board of Trustees in November 2012.
She earned Associate's degrees in Liberal Arts, Paralegal Studies and Office Technology from Santa Ana College. Additionally, she holds a Bachelor of the Arts Degree in Sociology and a Master's in Public Administration from California State University, Fullerton.
After her retirement, Councilmember Mendoza pursued a Teacher's Credential from the Orange County Department of Education and currently teaches part-time at the high school level.
Councilmember Mendoza said she pursued this challenging Council seat because "I am strongly invested in my community."
"I want to ensure that our communities are properly represented and have a voice at City Hall," she said.