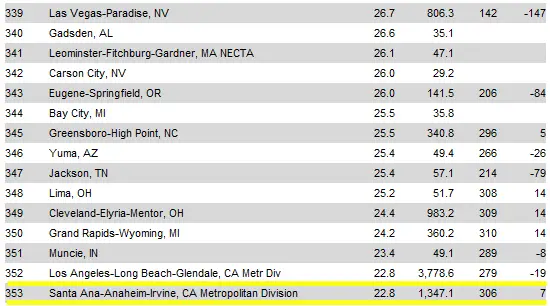 A new national study has revealed that the Santa Ana area is lagging in jobs growth, compared to many other cities.
We have explored this  issue before.  A previous study found that Santa Ana is one of the most expensive cities to do business in, here in Orange County.  And we have the highest water rates in Orange County, as well as the highest property taxes, due to an abundance of municipal bonds.
If our city leaders want to help create more jobs, they need to lower the cost of doing business in this city, and make it easier for new businesses to open up. 
Someimes our own residents are the ones who kill jobs.  A Buffalo Wild Wings restaurant tried to open up here last year, only to face a lawsuit filed by a number of Santa Ana's "Usual Suspects."  The restaurant owners went elsewhere and now the food court that lost this franchise is struggling to survive.  This is typical of what goes on in Santa Ana.
And our own City Council passed a measure against "Big Box" stores, I believe in 2008, which ultimately led to several big stores locating elsewhwere.  Moreover, they did nothing to help the huge chain Curacao, which was looking to open up here.  So the owners opened their mega-store in Fountain Valley instead. 
In case you are wondering how the study was conducted, read on:
The data reflect the North American Industry Classification System categories, including total nonfarm employment, manufacturing, financial services, business and professional services, educational and health services, information, retail and wholesale trade, transportation and utilities, leisure and hospitality, and government.
"Large" areas include those with a current nonfarm employment base of at least 450,000 jobs. "Midsize" areas range from 150,000 to 450,000 jobs. "Small" areas have as many as 150,000 jobs. Because of the significant declines in employment across the nation which caused some MSAs to drop below the 450,000 and 150,000 job thresholds, the size category for each MSA in the 2010 ranking is kept the same as it was in 2009 to maximize comparability between the rankings.
This year's rankings use four measures of growth to rank all areas for which full data sets were available from the past 10 years. Because of the expanded availability of data since last year, we were able to include another 61 small MSAs in this year's rankings for a total of 397 regions. As a result, this year's rankings can be directly compared to the 2009 rankings for MSAs for the large and midsize categories, but there are some adjustments needed for year-to-year comparisons in small MSA category. In instances where the analysis refers to changes in ranking order, these adjustments are made accordingly.
The index is calculated from a normalized, weighted summary of: 1) recent growth trend: the current and prior year's employment growth rates, with the current year emphasized (two points); 2) mid-term growth: the average annual 2004-2009 growth rate (two points); 3) long-term trend and momentum: the sum of the 2004-2009 and 1999-2003 employment growth rates multiplied by the ratio of the 1999-2003 growth rate over the 2004-2009 growth rate (two points); and 4) current year growth (one point).