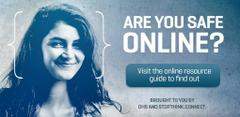 City of Santa Ana
Community: Stop.Think.Connect. Cybersecurity Toolkit
The Internet touches almost all aspects of everyone's daily life, whether we realize it or not. Cyber criminals do not discriminate; they target vulnerable computer systems regardless of whether they are part of a large corporation, a small business, or belong to a home user. Cybersecurity is a shared responsibility in which all Americans have a role to play.
Below find resources and materials to help protect your online identity:
Learn how to protect yourself, your family, and your devices with tips and resources from the National Cyber Security Alliance.
Check out the National Centers of Academic Excellence for information on higher education in information assurance programs to meet America's growing demand for cybersecurity professionals.
Sign up for alerts and get tips on safeguarding your electronic devices, using social networking sites, and more from the United States Computer Emergency Readiness Team (US-CERT).
File a complaint with the Internet Crime Complaint Center or your State Attorney General's Office if you are a victim of online crime.
Follow ten simple, customized steps from the Federal Communications Commission's Smartphone Security Checker to secure your mobile phone. In addition, learn how to safely use public Wi-Fi networks and what steps to take if your phone is stolen.
For much more information and resources, visit the Stop.Think.Connect. Toolkit at: