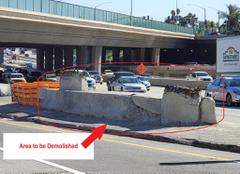 The Northbound I-5 Main Street On-ramp and the right lane on I-5 northbound between 17th Street and SR-22 will be closed for each night starting on Tuesday, 2/18/20, from 10:00 pm to 5:00 am. This will continue for approximately one week.

To access the northbound I-5 from Santa Ana:
• Head north on Main Street or Bristol Street to La Veta Avenue east and take the Westbound SR-22 On-ramp to Northbound I-5
• Head north on City Drive from Memory Lane west to the Northbound I-5 City Drive/State College Blvd. On-ramp
• Head east on 17th Street and make a U-turn at Santiago Street for Northbound I-5 17th Street On-ramp
The closures are required for construction crews to demolish barrier-columns that remain from the August 2019 I-5/Main Street Carpool Ramp demolition. This construction activity can only be done at night and may be loud. Dates and times are subject to change if there is inclement weather or unfore seen operational factors.
Please follow detour signage and plan for possible delays. We apologize for any inconvenience and thank you for understanding.
For any questions about the I-5/Main Street Carpool demolition, please contact (800) 724-0353 or central5fwy@octa.net.
For current I-5 project status and updates please visit:
www.octa.net/i5Central or OCTA Facebook page at https://www.facebook.com/OCI5CentralCounty/