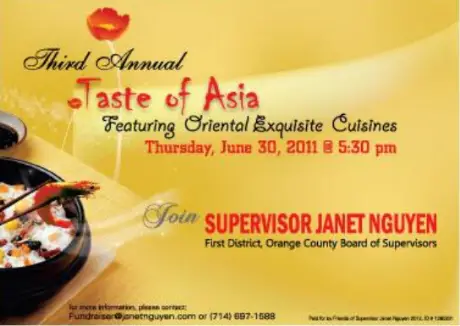 Orange County Supervisor Janet Nguyen, a Republican, is a creature of habit, if nothing else.  She is holding her Third Annual "Taste of Asia" fundraiser on Thursday, June 30, at 5:30 pm, at the home of Ralph and Joyce Allen, at 1002 West River Lane, in Santa Ana.
The last time she held one of these she got ripped by the OC Weekly:
​Political fundraisers sometimes have a theme, usually involving patriotism or some type of activity. Ethnic politicians usually do a riff off their, well, ethnicity. So it's not surprising that First District Supervisor Janet Nguyen is advertising a fundraiser in August as a "Taste of Asia" soiree, featuring "Asian World Fusion Cuisines," according to an invite obtained by the Weekly. The grammar in that promise is atrocious–is the food from the Asian world? Is the world fusion Asian? Are the fusion cuisines from the Asian world? Where's the European world?–but not as bad as how Janet is classifying the levels of sponsorship according to donation amount.  Cue the gongs…
So what does it cost to taste Nguyen's idea of Asia?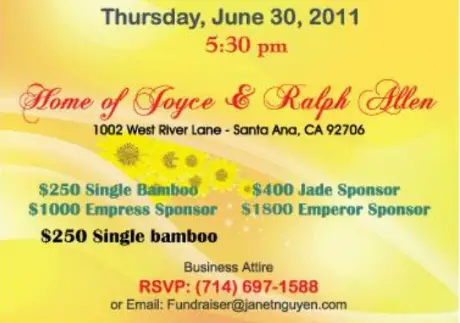 You can be a "Single Bamboo" for only $250!  What a deal.
It is ironic that Nguyen has stuck with the "Taste of Asia" motif after we caught her taking money from restaurants with horrible health ratings, back when she voted against letter grade ratings for restaurants.  You might recall that Nguyen also failed to mention that her husband, Garden Grove Planning Commissioner Tom Bonikowski, and her then Chief of Staff, Andrew Do, also co-owned a Lee's Sandwiches franchise, in lovely Stanton, that had been repeatedly busted by the O.C. Department of Health.  You can read more about that mess here.
Just for fun I checked the O.C. Health Department's file on the Bonikowski Lee's Sandwiches, and sure enough they got busted again this past May.  Click here for the gory details.
You can spend hundreds to be a bamboo at Nguyen's fundraiser, but when it comes to a "Taste of Asia," just make sure it isn't a taste of the Stanton Lee's Sandwiches!