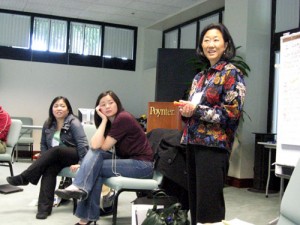 SAUSD Trustee Audrey Noji always finds a way to win in November…
Two of the Santa Ana Unified School District's (SAUSD) Trustees are up for reelection in November – Audrey Noji and John Palacio.  Both have been in office for many, many years.

Noji recently spoke at my 13 year old's graduation from middle school.  She spoke in three languages – English, Vietnamese and Spanish.  Palacio spoke too, but only in English.
The SAUSD has been reeling for years.  Most of our high schools and many of our other schools are on the State of California's low performing list.
So far only one challenger has pulled papers – me.  As a teacher and safety consultant I should have a decent shot at replacing one of the incumbents.  Click here to see my campaign website.
So who else will be challenging Noji and Palacio?
So far it looks like the incumbents have managed to shut down all challengers.  I spoke to Alfredo Amezcua, a candidate for Mayor of Santa Ana.  He said his daughter Valerie, who ran for the SAUSD School Board in 2008, is not running this time.  I also spoke to Palacio and he said the same thing.
What about Gloria Alvarado and Cecilia Aguinaga?  They too ran in 2008.  So far neither has filed.
Irene Ibarra already told me she is not reprising her 2008 campaign.  Nor do I expect Mike Gonzalez, a local businessman who ran in 2008, to run again.
What about Gregory Barraza?  He too has not pulled papers.  He also ran in 2008.
I have heard rumors that a Vietnamese candidate might file.  If that happens it will make it very hard for Noji to be reelected.
I expect a high Vietnamese voter turnout in November, due to Assemblyman Van Tran's presence on the ballot, as a candidate for the 47th Congressional District.  Noji is clearly going after that vote.
It is very likely that the voters will reject both incumbents because of the poor performance of the SAUSD over their tenure.
Will other candidates emerge?  Maybe, but the filing deadline is coming up on Friday, Aguust 6.  We will keep our readers updated as the new candidates jumpt into the race.