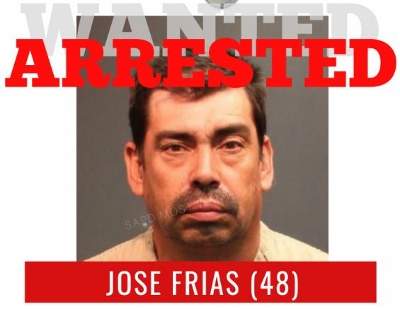 In 2016, Santa Ana Police Department Special Crimes Detectives investigated allegations of child abuse made against 45-year old Jose Frias. The 11 year-old victim was a close family friend and claimed Frias sexually assaulted her on several occasions. On one occasion, Frias drove the victim to a hotel where he intended on sexually assaulting her.
In May 2016, Jose Frias was arrested and booked at the Orange County Jail and his bail was set at $100,000.00. The Orange County District Attorney's office filed felony child abuse charges against Frias who bailed out of jail and fled to Mexico just days after his arrest. Frias remained in Mexico for some time then returned to the United States. He evaded prosecution for three years.
Detectives received information that Frias returned to the United States and made several attempts to locate and arrest him. Frias had surveillance cameras and utilized counter surveillance measures to avoid arrest. On April 17, 2019, Jose Frias was featured as a wanted person on the Santa Ana Police Department's "Most Wanted Wednesday" social media post. Detectives received numerous tips from the public regarding Frias' whereabouts.
On May 2, 2019, Santa Ana Police Special Crimes Detectives conducted surveillance and arrested Frias as he left his home. Frias pulled into a shopping center in the 1000 block of South Fairview; detectives were right behind him. Frias saw the police vehicle and accelerated through the parking lot but had nowhere to run. He was taken into custody without incident.
ORIGINAL MESSAGE –
Suspect: Jose Frias (48)
Vehicle Description: White Ford Ranger, License Plate # 25189L1
Last known address: 1100 Block of South Golden West Avenue, Santa Ana.
On 05-4-2016, SAPD Special Victims Detectives arrested Jose Frias for sexually assaulting a 13-year-old victim. Frias was a family friend of the victim, and molested her for over the course of one year. This criminal case was filed by the Orange County District Attorney's office on 5-5-2016. On 05-10-2016, Frias bailed out of jail and ordered back to court on 5-27-2016 for his arraignment. Suspect Frias never returned to court and the judge issued a $100,000 warrant for his arrest.
Police have not located suspect Frias since bailing out of jail, and remains wanted for the outstanding warrant. According to the victim's family, Frias has been seen recently driving in the area of McFadden and Raitt. Anyone with information on Frias's whereabouts is asked to please contact Detective Cpl. Perez at (714) 245-8351.