SAUSD School Police abruptly shut down the Northeast Santa Ana Little League (NESALL) today – traumatizing the innocent children who were playing baseball at the field located next to Sierra Preparatory Academy.
NESALL has been teaching kids baseball since 1954. While they stage baseball games at Portola and Cabrillo Parks their headquarters are at a field located next to Sierra Prepatory Academy, at 2021 N. Grand Ave.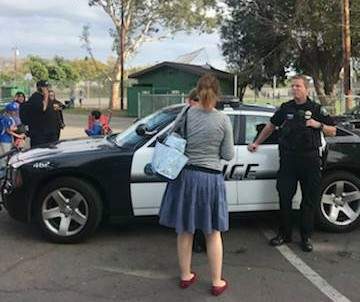 The trouble began on Friday, March 16 at 5 p.m. when the SAUSD alleged that a male NESALL coach along with several NESALL parents were together yelling obscenities at a Sierra Engage 360 member in front of her students, telling her to leave the District baseball field immediately.
According to the SAUSD, the NESALL coach and parents were also complaining that the gates were locked, and stated with profane language that the Sierra faculty member and students had no right to use the field.  The NESALL group then allegedly produced bolt cutters, approached the locked gate, and were threatening to cut the lock off the gate.  Their threat to cut the lock was prevented by Sierra's night custodian who came and unlocked the gate.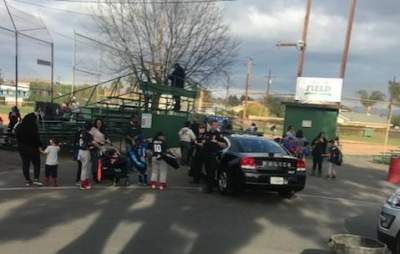 The SAUSD alleged that the coach's and parents' harassment caused the Sierra faculty member and her students to fear for their safety, and the District warned that they take any such safety or security threat extremely seriously.
While the alleged behavior was indeed seemingly over the top the SAUSD did not give NESALL a chance to resolve the situation. Instead they informed NESALL's President, via email, that based on NESALL's harassment of District faculty and students, as well as its threat to District property, the District would immediately be suspending NESALL's field and auxiliary building usage privileges until a thorough investigation could be completed.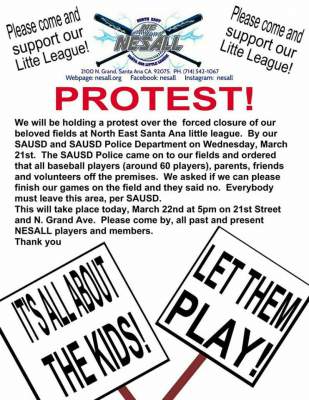 The SAUSD further warned NESALL that any attempted use of District property during the suspension would be considered trespassing and would result in an extended suspension of field privileges.
NESALL's President, who works in law enforcement, offered to provide the names of the offending parties to the SAUSD. He also offered to any future field conflicts by moving games and practices to 5:30 p.m.
Of course NESALL wants to be a good neighbor to Sierra. It seems to me that this entire situation could have been handled differently.
All that said the parents at NESALL are at least trying to make things better by getting their kids involved in sports. NESALL doesn't just teach baseball. They teach sportsmanship and teamwork and the value of hard work and practice.
My three son's all played baseball at NESALL. I know firsthand how important NESALL is to our community. And as a former NESALL board member I also know that the adults can at times misbehave. Rest assured that NESALL's Board does not tolerate such behavior and they would have resolved the current mess if the SAUSD had given them more time.
Instead kids today were forced off the field by armed police officers. That is how the SAUSD chose to handle this.
Even if this mess gets resolved I am pretty sure the SAUSD will now start trying to charge NESALL an outrageous rent even though NESALL is a nonprofit and what they do benefits all of our community.
In related news the Methodist Church next door to NESALL and Sierra has decided not to host Santa Ana's Boy Scouts any more.
What is the world coming to when fine organizations like NESALL and the Boy Scouts are unwanted and unsupported by the SAUSD and the local Methodist Church? I am completely aghast.
It is time for us to email the SAUSD's School Board members and let them know how important NESALL is to our community and to our kids:
Valerie Amezcua, President, Home: (714) 714-0265, Mobile: (714) 640-4098, Email: vamezcua1992@gmail.com
Rigo Rodriguez, Ph.D., Vice President, Phone: (714) 640-7533, Email: Rigo.Rodriguez@sausd.us
Alfonso Alvarez, Ed.D., Clerk, Phone: (714) 656-8083, Email:  Alfonso.Alvarez@sausd.us
Cecilia "Ceci" Iglesias, Mobile: (714) 640-9362, Email: Cecilia.Iglesias@sausd.us
John Palacio, Member, Phone: (714) 542-0589, Email: wearesausd2017@yahoo.com
Here is a statement by NESALL's President –
Today marked a dark hour in the life of our league and in the lives of our children. Based upon a complaint against a group of parents alleging the use of profanity towards a 360 after school program employee on Friday, March 16, 2018, the SAUSD suspended our access to the facilities and the district fields at Sierra Academy. Based upon this notification, and prior historical information concerning the fields, we immediately moved/rescheduled games and practices off of the fields on the campus of the Sierra Academy to our fields (Curran, Sarinana, and Ash) and fields reserved by NESALL at city facilities. Parents and players came Wednesday evening for games and life went on on the property adjacent to the Sierra Academy. To my knowledge, no NESALL player or parent accessed the fields on the Sierra campus which is clearly delineated by a 10′ high fence with locked gates between the facilities. At approximately 5:00 that all came to an end when the SAUSD Police evicted our family from our fields.

We are working through local government/elected officials to intervene on behalf of the League and the innocent children being deprived of their liberty to play baseball at the place they have grown to call home. We are also seeking legal assistance to resolve this matter. At this time we have not cancelled games in the hope that logic and common sense will rule the day and we will be able to resume play Thursday evening (weather permitting). An announcement concerning Thursday games will be posted no later than 3:30 pm.

This is a fluid situation and we ask that you be patient and ready to play/move on short notice. If you are scheduled to play, expect to play until you have been advised by your coach or by league email that your game has been postponed, rescheduled, or cancelled. We are making arrangements to play all scheduled games as scheduled to include the potential relocation of games to other facilities if necessary and the ability to do so exists.

I want to remind our family members that more is lost than gained through the use of profanity and aggression. Civil conversations produce better results than those made in anger. Our codes of conduct are still in place and govern our players and parents in this situation.

If you have ideas on ways to support the league at this hour of need or have information that may help this situation, please email the league at nesallpresident@gmail.com and nesallvp@gmail.com.

Thank you for your continued support as we work through this situation.